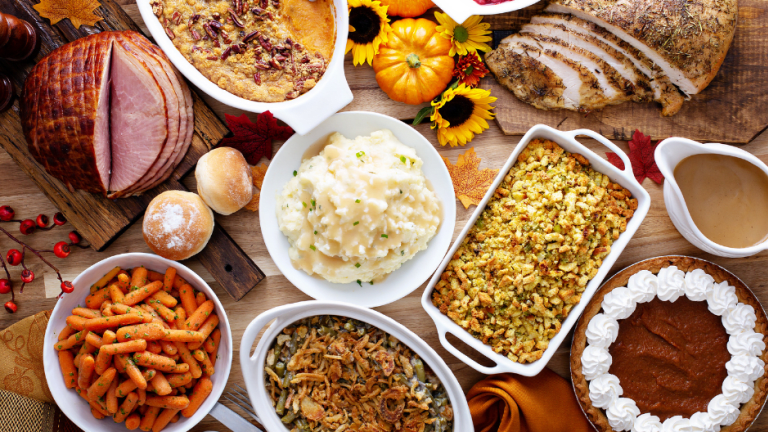 Thanksgiving Recipe Ideas from Weelicious
We are sure the whole family will love these fresh Thanksgiving recipes from Weelicious.
With Thanksgiving two weeks away, we are excited to share some delicious menu ideas from Catherine McCord, founder of the family friendly culinary site, Weelicious.com, with some delightful, healthy (and quick) holiday recipes that take traditional Thanksgiving classics and amp up the flavor and charm.
Related: How to roll a pie crust
Thanksgiving Recipe Ideas from Weelicious
Featuring recipes for Apple Sausage Stuffing Bites, Herb Brined Turkey, and Whipped Coconut Sweet Potatoes, we are sure the whole family will love her take on Thanksgiving that is packed with flavor. 
Apple Sausage Stuffing Bites 
(makes 12 servings)
Ingredients:
1/2 baguette, cut into 1/2 inch cubes, about 4 cups
1 teaspoon oil
2 sweet apple chicken sausage links, chopped, about 1 cup
1 medium apple, chopped (gala, fuji, or golden delicious)
1 small yellow onion, finely chopped (about 1 cup)
2 celery stalks, finely chopped (about 3/4 cup)
1 teaspoon minced fresh thyme
1/2 teaspoon salt
1 cup chicken stock
2 eggs, beaten
Directions:
1. Preheat oven to 300F.
2. Toast the bread cubes for 8-10 minutes to dry them out. Alternatively, you can use day old bread that is already dried out.
3. Increase oven temperature to 350F.
4. Heat oil in a sauté pan. Add the sausage, apples, onions and celery, and sauté for 5-7 minutes, until everything is heated through and the veggies are tender. Allow to cool a few minutes before continuing.
5. Place all the ingredients in a large bowl and toss to thoroughly combine.
6. Spoon the stuffing mixture into greased muffin tins, filling all the way to the top. Pat the mixture down to pack it well.
7. Bake for 45 minutes.
Note: If you're using sausage that is not fully cooked, sauté it for 4 minutes before adding the oil and the remaining ingredients.
Herb Brined Turkey 
(Serves 10-12)
Prep Time: 1 days, Cook Time: 2 hrs, 30 mins,
Ingredients:

One 12-14 lb turkey
2 tablespoons kosher salt
2 teaspoons dried sage
2 teaspoons dried thyme
2 teaspoons dried rosemary
2 cups turkey or chicken stock
Preparation:

1. Remove the giblets from the turkey (to save for the gravy), wash and pat the turkey dry with paper towels.
2. Whisk the salt and herbs in a bowl until combined.
3. Rub the salt/herb mixture all over the turkey, inside and out.
4. Place the turkey on a rack on a large plate or baking sheet and refrigerate uncovered, for 36 hours-2 days.
5. Remove the turkey from the refrigerator 1-2 hours before cooking to bring to room temperature.
6. Preheat oven to 450 F.
7. Tuck the wings behind the neck to avoid burning and place the turkey on a roasting rack, breast side down, pour 2 cups of chicken or turkey stock into the roasting pan and reduce the cooking temperature to 350 degrees.
8. Cook the turkey for 30 minutes.
9. Turn the turkey breast side up, roast the turkey an additional 2 hours minutes – 2 hours and 15 minutes, basting every 30 minutes and turning the turkey pan halfway through the cooking time (if the breast becomes too dark cover with foil).
10. Place a meat thermometer in the deepest part of thigh, but being careful not to touch the bone, until you have an internal temperature of 165-170 F.
11. Allow the turkey to rest for 30 minutes before slicing (this allows the juices to redistribute, making the turkey super juicy).
12. Serve.
Whipped Coconut Sweet Potatoes 
(serves 4)
Ingredients:
2 large sweet potatoes
1/2 cup coconut milk, warmed
1 tablespoon maple syrup
1/4 teaspoon ground cinnamon
Preparation:
1. Preheat oven to 400F.
2. Poke holes in the sweet potatoes and place on a foil lined baking sheet. Bake for 1 hour, or until fork tender. Allow to cool slightly.
3. Peel the skin off the sweet potatoes. It will easily peel off using your fingertips.
4. Place the sweet potato pulp, coconut milk, maple syrup, and ground cinnamon in a bowl and beat with an electric mixer, or in the bowl of a stand mixer, until thoroughly combined and fluffy.
TO HELP YOU PREPARE FOR THANKSGIVING CHECK OUT OUR FAVORITE POSTS:
PIN IT!
Use Pinterest to save your favorite crafts. Be sure to follow our Thanksgiving and Halloween Crafts Board.
Momtrends was not paid for this post.