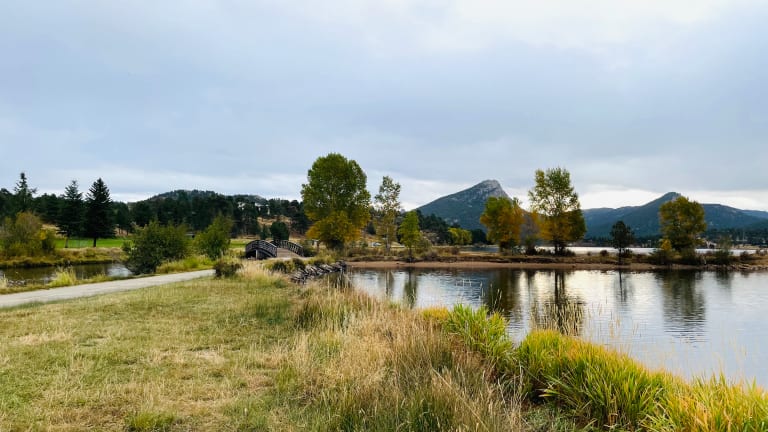 Plan a Visit to Estes Park, Colorado
This is the spot to base your trip to Rocky Mountain National Park, let's get planning.
The Rockies are calling, people. I was lucky enough to visit Estes Park, Colorado and get the star treatment as I toured the park with the pros. I had never been to the Rocky Mountains before and from a first-timer's perspective, the wonderment and adventure one achieves whilst there is undeniable. Who knew I could hike at high altitudes with a llama? Not me! There are so many things to do, the words, "I'm bored" will never escape your child's lips again. At least, not in Estes Park! Let me help with your trip planning, as this one is NOT to be missed.
Related: Family friendly hotel in Breckenridge
Rocky Mountain National Park
This national park is the big reason families flock to Estes Park. The town makes an awesome home base for getting out in nature. There are sixty mountain peaks over 12,000 feet high in the park. RMNP has more than 300 miles of hiking trails and is home to amazing wildlife like elk, bighorn sheep, moose, marmots, bears and even mountain lions. Note: please stay 25 yards away from all the wild animals and stick to the marked trails. 
Speaking of trails, the park has plenty of family-friendly hiking like the easy Beak Lake Look (0.6 miles) and for a little more of a challenge, the Emerald Lake Loop (3.5 miles).
Grand Lake is known as the Western Gateway and is Colorado's largest natural lake. There's a historic boardwalk with shops, restaurants and galleries. 
Momtrends Tip: Use the free parking areas by the Estes Park Visitor's Center to get a shuttle to RMNP.
Plan a Visit to Estes Park, Colorado
Once you've decided you are ready to tap into all this nature, it's time to plan. Let's start with figuring out where to stay. There's loads of camping in and near Estes Park, but if you don't want to pitch a tent or rent a camper, you have plenty of options.
Estes Park YMCA
Everyone knows the YMCA. But did you know that Estes Park is home to the very first? Built in the late 1800's, the vast campus spreads over 860 acres. With 250 cabins, 9 lodge buildings, and ample space to explore, the YMCA of the Rockies is the perfect family retreat. The view is stunning. There are mountains surrounding the scene, free roaming elk everywhere you look, and beautiful hiking trails throughout the area.
Set nature aside for a moment and discover the stunning Crafts and Design Center where you aren't just making lanyards--- with expert guidance, you can weave a basket, paint a silk scarf, or learn an entirely new skill.
There is also miniature golf, a beautiful pool, and plenty of sports activities around. You could spend the entirety of your vacation nestled right here and you would feel completely satisfied. Plus there's a day camp for the kiddos so you can sneak away and get a massage. Yes, really.
If you want to spend a bit more money, the Ridgeline Hotel is an excellent choice on a subsequent visit, one of the Momtrends' team stayed in this great resort. It's got a indoor pool, full restaurant and nightly campfires with s'mores. It's a bit more polished than the YMCA, and if you want more of a traditional hotel experience, this should be a spot to consider.
Fly Fishing in Estes Park, Colorado
I have never fly-fished before. It's an art. I've seen A River Runs Through It like, ten times, and I watch as Brad Pitt (in all his glory) flings the line up and down the river catching fish after fish. Let me be quite plain: it's not easy. But Kirk's Fly Shop in the heart of Estes Park guarantees you'll catch a fish. With the unparalleled knowledge of Kirk and his staff, you are outfitted with waiters and rods and given a thorough crash-course on how to catch trout. Check out my video below to see how I did:
If you're not sure if a fishing excursion is right for you, there are several options to choose from. You can choose a full day adventure or go for a few hours. Either way, you are led through the Rockies with llamas (they are great pack animals and I didn't get spit on once. Also, if you have little ones who weigh under 80lbs, they can opt to ride them through the tougher areas of the trail) to a gorgeous river where there are 4 kinds of trout available to catch.
All the fish catching can be distracting though, and staying hydrated is important. If you're not used to the elevation, doing this trip on day two or three of your vacation is wise. Lucky for me I had this awesome water bottle from Contigo which my llama friend Bruce was clearly impressed by as well.
Estes Park History
The MacGregor Ranch is one of those idyllic places you see in magazines. Set on paradisal grounds that have remained untouched since its inception in 1870, the ranch offers a youth program, garden, tours, and an education about early homesteading. Take a look back in the early days of Estes Park and the Black Canyon Creek area. The Lumpy Ridge borders the Ranch on the north boundary and offers dramatic views of the Estes valley. 
Have you ever read The Shining? You've at least either seen the movie or have heard of it. Well, welcome to the Stanley Hotel, the very one which inspired Stephen King's creepiness. Though it wasn't filmed here, there are plenty of nods to the story throughout the hotel. Learn the history of the hotel and it's amazing builders, The Stanley's while getting an education about the trials and tribulations of the early 1900's.
There's also an impressive whiskey bar, a live-in psychic, a hedge maze, and ghost tours of the various buildings on the property. It's definitely a fun stop if for nothing more than to get another impressive view of Estes Park.
The Wandering Elk
And we can't wrap up a feature on Estes Park without mentioning the most famous residents...the elk. They really do make this place home. It's hard to walk too long without meeting an elk. While they don't seem aggressive, it's best to give them space, especially the males. Here's what REI advises
Keep your distance; aim to keep 50 yards between you and them.
Never touch or move elk calves.
If an elk approaches you, back away slowly. Give the animal space and allow it to pass.
Excellent advice, and here's another tip, don't wander with your headphones in, make sure you are fully aware of your surroundings so you don't surprise one.
Elk fun facts: Elk antlers can grow as much as one inch in one day.
If you don't see them right away, check the golf course, every time I went for a run, I spotted a few there. Enjoy and stay safe!
With nature, history and a chance to relax, Estes Park makes and awesome family destination.
MORE TRAVEL TRENDS TO CONSIDER
PIN IT!
Use Pinterest to start your bucket list travel ideas. Be sure to follow our Travel with Kids board here.
This is not a sponsored post.