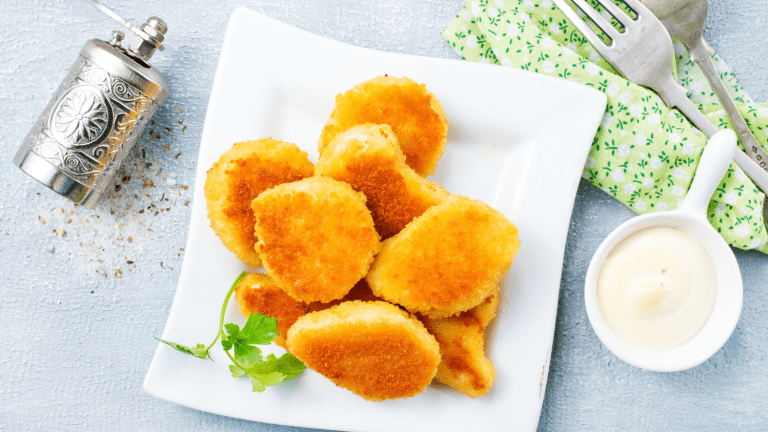 Veggie Nugget Recipe from Weelicious
Delicious homemade Veggie Nuggets that are packed with potatoes, carrots, corn and broccoli.
Every day there is either a battle when I want to introduce a new food to my older daughter, excitement over eating her favorite food (pasta) or boredom (by me) from making essentially the same thing from week-to-week. Recipe books, blogs and making recipes up as I go has helped but I am always on the hunt to mix up our meal-time options with healthy solutions for the entire family.
Related: The best veggie burger recipe
Family-Friendly Cookbook
I recently received a copy of Catherine McCord's new book Weelicious: One Family. One Meal. (Harper Collins, September 18) and I was thrilled to discover both a cookbook with 140 new recipe ideas and an inspirational feeding guide for today's modern family. Using recipes from Catherine's popular website, Weelicious.com the book takes readers on her personal journey of providing proper nutrition, and delicious dishes to her family, which includes her husband and two young children - all while training readers how to incorporate changes into their own lives.
Better Nuggets
Although I was struck by many of the recipe options, I was particularly excited for the homemade Veggie Nuggets that was packed with potatoes, carrots, corn and broccoli. An all natural option with no fillers or preservatives that typical nuggets are in a grocery - even if they do say they are vegetable-based! For this recipe, Catherine noted "Not only are these nuggets out-of-this-world delicious, they're super easy to make, and this recipe makes five times the number you get in a $5 box from the store." I also loved how economical these nuggets are as well as that it make over 40 that can be frozen and ready to go when I am in a bind or need a quick and easy option for my girls.
Through the book, Weelicious: One Family. One Meal., I not only have a new recipe but I also learned some valuable lessons about engaging children in mealtime, food shopping as a family, and negotiating food fights - all lessons that if taught from a young age will instill proper eating habits and behavior for years to come.
Veggie Nugget Ingredients
Makes 40 to 50 nuggets
2 large russet potatoes, peeled and cut into 2-inch cubes
2 medium carrots, peeled and cut into 1-inch pieces
1 cup broccoli florets
1/2 cup frozen corn kernels, defrosted
1/2 teaspoon kosher salt
1/2 teaspoon garlic powder
1/2 teaspoon onion powder
1/4 cup all-purpose flour
2 large eggs, whisked
1 cup bread crumbs
olive or canola oil
cooking spray
Ketchup or mustard, for serving (optional)
Veggie Nugget Directions 
Place the potatoes and carrots in a steamer pot over boiling water and steam for 15 minutes.
Add the broccoli and steam for 5 minutes.
Place the potatoes in a bowl and mash them. Place the corn, broccoli, and carrots in a food processor and pulse to finely chop.
Add the chopped vegetables, salt, garlic powder, and onion powder to the mashed potatoes and stir to incorporate.
Spread the mixture ½ inch thick on a baking sheet and freeze for 1 hour (no more than 1½ hours).
When you're ready to make the nuggets, place the flour, eggs, and bread crumbs in three separate bowls, forming an assembly line.
Preheat the broiler and line a baking sheet with foil. Coat the foil with cooking spray.
Remove the pan from the freezer. Use a 1- to 2-inch-wide cookie cutter to cut out shapes from the potato mixture, or use a knife to cut into small squares. Gently coat the nuggets with the flour, then the egg, then the bread crumbs, and place on the baking sheet.
Lightly coat the nuggets with cooking spray. Broil for 2 minutes on each side, or until golden, keeping an eye on them so that they don't burn. (You can also bake the nuggets at 450°F for 10 minutes.)
Serve with ketchup or mustard if desired.
To Freeze Your Nuggets

After step 8, place the breaded nuggets on a baking sheet and freeze for 30 minutes. Remove from the freezer, place in a zip-top bag, label, and freeze for up to 3 months.
Serving Size
MORE KID FOOD RECIPES FROM MOMTRENDS
PIN IT!
Use Pinterest to save your favorite recipes. Be sure to follow our Healthy Eats board
Momtrends was not paid for this Veggie Nugget Recipe from Weelicious post.