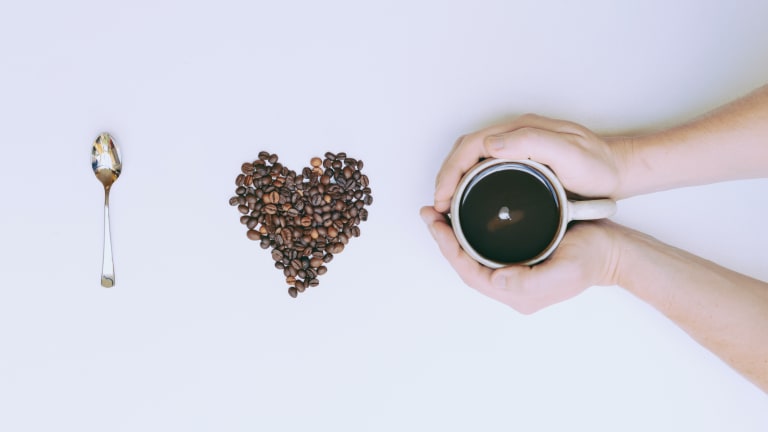 Sweet & Sinful Valentine's Day Coffee Recipe
Impress your sweetie this Valentines Day with a sweet indulgence--a gourmet coffee drink you can make for breakfast in bed or a dessert deligh
You've got to try this Valentine's Day Coffee Recipe. It's sweet, tempting and bound to kick off your Valentine's Day celebration the right way. You can make this treat at home--we're making it easy. Since coffee is an everyday part of life, we love putting a sweet twist on a simple classic.
Impress your sweetie this Valentines Day with a sweet indulgence--a gourmet coffee drink you can make for breakfast in bed or a dessert delight. America's Original Gourmet Coffee introduces their new Chocolate Cherry Coffee recipe, with swirls of creamy chocolate and tart cherry to tickle the taste buds. This recipe from Eight O'Clock Coffee can be made with a traditional coffee brewer or a Keurig® brewer, making it easy to brew a coffeehouse-worthy creation.
Chocolate Cherry Eight O'Clock Coffee Recipe
Ingredients
1 rounded tbsp Eight O'Clock Coffee Original or Colombian Coffee per 6 oz cup (for brewing) OR
1 Eight O'Clock Coffee Original or Colombian Keurig® K-cup pack
2 chocolate covered cherry candies (such as Cella's)
Whipped cream and maraschino cherry (optional)
Preparation
Place the chocolate covered cherry candies at the bottom of the mug. Pour freshly brewed coffee from pot over candies, or, if using a Keurig® brewer, brew coffee over candies, and stir until chocolate has melted. Cream or milk is optional as this gets sweet and creamy all on its own. Top with whipped cream and a cherry for an added touch.
It's a dessert and a drink all in one. For a more traditional cocktail, try this grapefruit cocktail we whipped up.
MORE WAYS TO MAKE IT A HAPPY VALENTINE'S DAY!
PIN IT!
Be sure to follow our Valentines board and pin your favorite ideas.
Momtrends was not paid for this post.