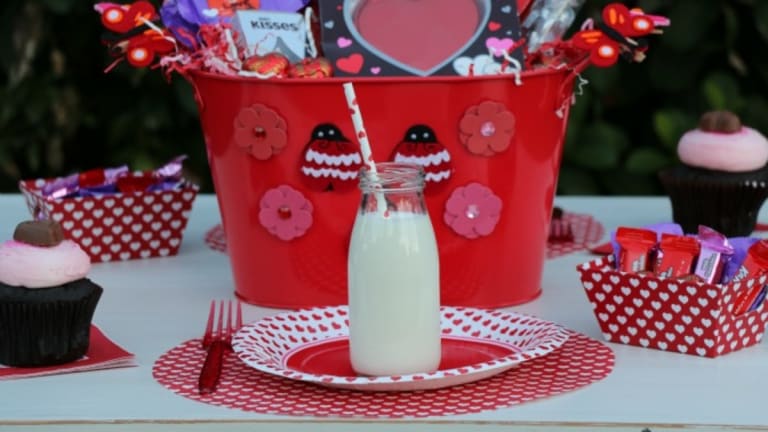 Valentine's Day After School Surprise for your Love Bugs
Creating an after school treat bucket for your kids for Valentine's Day
Growing up my mama always made Valentine's Day a very special holiday for us. My sister and I were her Valentines and she made sure we knew it by giving us special surprises each and every February 14th. Thanks to our childhood fun, I've been inspired as an adult to celebrate all my loved ones on Valentine's Day too. Sure, my honey gets my attention, but so do my little love bugs..Just like their mama, my kids are all about any and every holiday and heart day has definitely become one of their favorites thanks to our family tradition.
Starting Valentine's Day Tradtions
Since my son started school, I've been setting up an after school surprise on Valentine's Day for him and now that my daughter is officially a pre-schooler, she can get in on the action too! It's something we can all look forward to throughout the day, and again like their mama, nothing delights my sweet cherubs more than sampling sweet treats. So, obviously chocolate is a big part of their surprise...It's just my little way of giving them a #HSYMessageOfLove!
After School Surprise for your Love Bugs
Behold, my Hershey and Love Bugs themed sweets table....For this year's Valentine's Day after school surprise, I decided to create a love bug bedecked basket complete with our favorite Hershey's chocolate to serve as a centerpiece on their table. Not only will they be able to dig into the candy, but I couldn't help but add a couple of beautifully frosted cupcakes as well, each topped with a Hershey's Milk Chocolate Heart...But let's first talk about how I made the Love Bug basket.
Creating a Love Bug Bucket
I simply took a plain metal bucket, filled it with red and pink shredded paper and decorated it with ladybug and butterfly stickers that I scored at the local craft store. Next I arranged some delicious candies like Reese's Conversation Cups, more Hershey's Milk Chocolate Hearts filled with Caramel, a Reese's Peanut Butter 5 oz. Heart and other tasty treats in the bucket.
Once my centerpiece was complete, I added heart adorned chargers, plates, napkins and straws along with cute little milk bottles to serve, what else, milk! The whole thing probably took me less than an hour to put together and it's sure to bring smiles galore when the big day arrives! I mean who wouldn't want to Celebrate with Hershey's?!?
If you've been inspired to throw your own Valentine's Day after school surprise, make sure you check out the fun recipes and more that Hershey has to offer over at their CelebrateWithHersheys.com site!
MORE WAYS TO MAKE IT A HAPPY VALENTINE'S DAY!
PIN IT!
Be sure to follow our Valentines board and pin your favorite ideas.