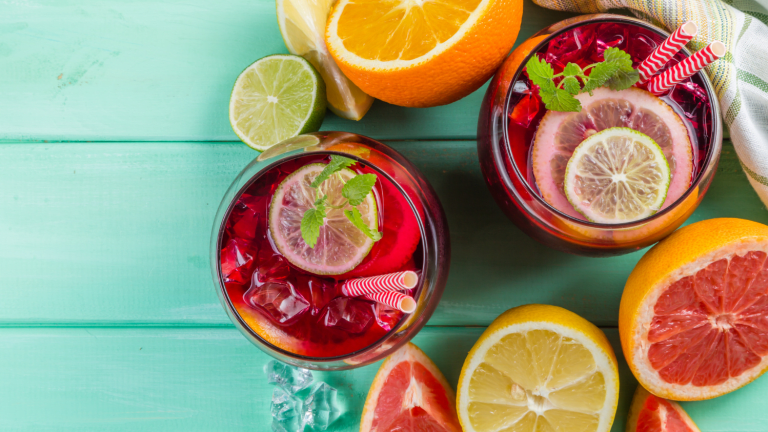 Three Top Summer Sangria Recipes
Enjoy the flavors of summer with our favorite fruity recipes for sangria.
I know the kids will be back to school in no time flat and, thus, we moms will be back to our busy routines. I'm holding on to the last bit of summer with both hands! I plan on squeezing out at least a little more magic out of the next few weeks...and that means the hubs and I will continue to enjoy our cocktail hour and enjoy one of these top three summer sangria recipes. 
Haha! Each night after the kids go to bed, we sit back, relax and enjoy a refreshing summer cocktail. It's been fun experimenting with mixology and some of my favorite drinks to make have to be sangria recipes.
Related: Paloma cocktail recipe
Three Top Summer Sangria Recipes
There are so many variations to try, so I rounded up a few of my favorite sangria recipes in case you too are in the mood to mix it up! Even if you aren't down for putting the time into a drink with loads of ingredients, never fear...Two of my top "recipes" are pretty much already mixed for you. You know how much I love a nice ready-made drink.
Sparkling Summer Rosé Sangria
And I really love how Take Time for Style made their ready-made sangria their own by adding fresh cut up fruit. Spending just a little bit of extra time on a detail like that can make it look like you spent some serious time in the kitchen.
White Sangria
If you're up for a little extra prep time and you're all about the bubbles like moi, this white sangria recipe is delightful. I'll never turn down a sparkling cocktail and when we're talking about sparkling sangria...I'm definitely all in!
Pre-Made Sangria
Ok, this one isn't exactly a recipe, but if a summer filled with the kids being home ALL the time has wiped you out, you might only be interested in a pour and sip scenario. That's when this ready to go sangria becomes your best friend!
So, as we close out another fun filled summer, I hope you'll take a moment to relish the magic. This girl will be testing a few more sangria recipes if you want to stop by!
MORE WINE LOVERS FUN FOR MOMS
PIN IT!
Use Pinterest to save your favorite cocktail ideas. Be sure to follow our Wine Time board here.