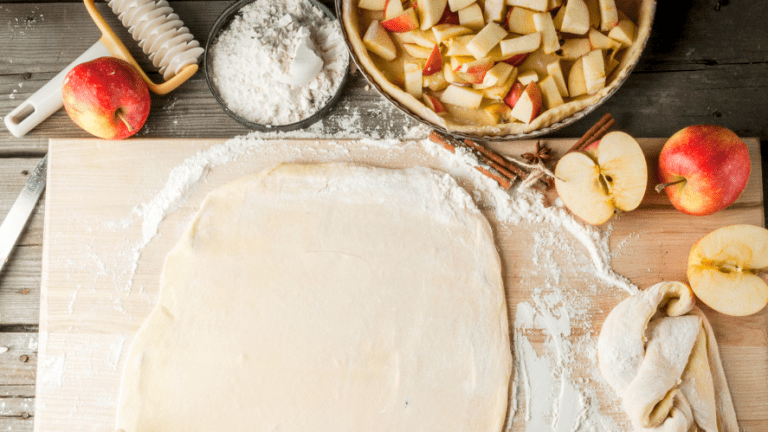 The Ultimate Apple Recipes Roundup
10 apple recipes to help you savor the crips and sweet tastes of the season.
One of my favorite things about fall is the bounty of fresh apples that are at our fingertips. And I'm guessing that many of love making apple recipes in the fall as much as you love tackling pumpkin recipes...If I say I love something as much as I love pumpkin, that means I like it a LOT! So, I've rounded up some delicious sweet and savory apple recipes for your fall cooking, baking and bartending pleasure! 
Related: Boozy salted caramel apple cocktail
Best of Fall: 10 apple recipes
Yes...There are cocktails. We can't get enough of a good cocktail around these parts! Just sayin'. Here are our favorite ways to use up those apples.
First up we have our Harvest Squash Apple Soup. It's the perfect meal to whip up on a chilly fall evening. Not only is this a comforting kind of soup that will fill up hungry bellies, but it's vegan...Hello meat free Mondays!
Next we have an appetizer. It's football season and that means one thing...tailgating! And even if you aren't going to the big game, I bet you're putting out a tasty spread. This Apple Cider Dip from Mom Endeavors will fit right in!
We're big fans of getting kids in the kitchen and it's a whole lot easier when they're excited about what they're making. I know my little ones would certainly be pumped to create something sweet like the Apple Filo Pastries from 5 Minutes for Mom!
What list of apple recipes is complete without a cocktail? None in my book! Jo-Lynne Shane made Apple Cider Mojitos. I mean I love apple cider on its own, so an apple cider adult beverage is definitely right up this girl's alley! Plus, it's just so pretty. Mama likes pretty!
Apple pie just got a whole lot cuter with these Mini Mason Jar Apple Pies from PureWow. I don't often meet a piece of apple pie that I don't like and I'm a sucker for anything miniature, so I obviously need to make these STAT!
One of my very favorite way to eat apples is in pastry form. The Apple Turnovers from Just a Taste are begging to be added to my next brunch menu. And as far as pastries go, they're fairly simple to make, yet are guaranteed to impress your guests! You want to plan a brunch now too right?
Since we're talking brunch...What goes better with fall brunch fare than Apple Cider Mimosas? BonBon Rose Girls shared a fresh take on the traditional mimosa that we can't wait to toast the season with! Like I said, you say there's apple cider in it and I'm drinking it!
And while we're on the subject of cocktails...The Shopping Mama shared some Apple Pie Sangria that looked so tasty I wanted to sip my screen. Haha! It has Thanksgiving written all over it. Cooking for the whole family calls for a cocktail...Am I right?
And after all that sweetness, we're going to end on a savory note. While apples are certainly delightful in sweet dishes, they're just as delicious when served the savory way. Mom Endeavors shared the a Chicken Apple Sausage and Sweet Potato Skillet that looks like a busy mom's dream meal. Easy to make without sacrificing flavor!
We saved the easiest recipe for last. These quick Apple Granola Bites are the perfect sweet and tart fall afterschool snack.
MORE FALL RECIPES FROM MOMTRENDS
PIN IT!
Use Pinterest to save your favorite recipes ideas. Be sure to follow our Apples board here.