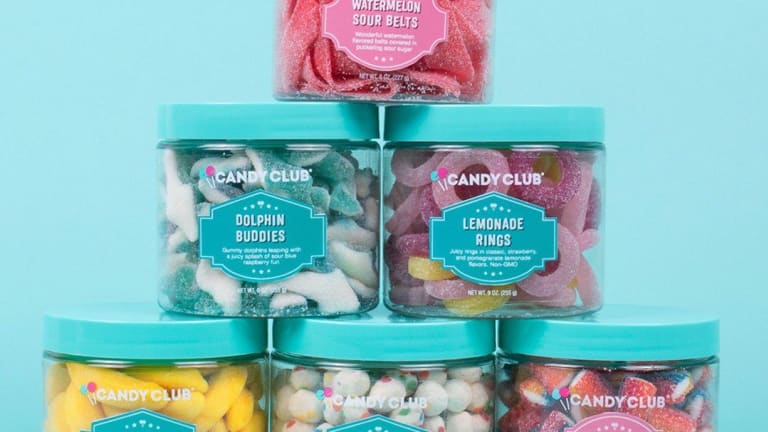 The Candy Club Subscription Box
As a monthly subscription service of curated sweets including a diverse selection of delicious favorites and hard-to-find classic candies.
Do you have a sweet tooth that can't be tamed? Well, then we have the perfect subscription box for you with Candy Club. As a monthly subscription service, you can enjoy curated sweets including a diverse selection of delicious favorites and hard-to-find classic candies conveniently delivered to your doorstep.
The concept is simple. First, visit Candy Club's website (www.CandyClub.com) and choose a one, three, six, or 12 month plan option. Second, receive your box of premium, hand-picked candy delivered to your home or business every month. Last – and most important – enjoy! Selections vary each month, offering members an assortment of three different types of candy stored in novelty Candy Club containers.
One month's box may surprise recipients with Haribo® Gummi Techno Bears, Sour Power® Wild Cherry Belts, Gimbal's® Sour Gourmet Jelly Beans and, as an added bonus, Butterfields® Peach Buds – all on a bed of Sweet's® Salt Water Taffy. Whether you're craving a short-term fix or long-term satisfaction, Candy Club offers the perfect solution for your insatiable sweet tooth as it delivers classic, nostalgia-inducing candy that is sure to bring joy to whomever you give this special gift to.
We recently tested this out, and I loved that our box was filled with sweet treats like jelly beans, gummy bears and cherry belts and taffy that contained in bright and fun packaging and cool jars.
This would be a fantastic gift for the holidays, Valentine's Day or a simple way to show that sweet person in your life that you are thinking of them. The boxes are $29.99/month, $24.99/month, $22.99/month, and $19.99/month, respectively (not including shipping) – which allows you to save cash while sweetening your or a special someone's stash.
For more information about Candy Club and national online ordering, please visit www.candyclub.com.
MORE SUBSCRIPTION BOX REVIEWS FROM MOMTRENDS
PIN IT!
Use Pinterest to save your favorite finds to support women. Be sure to follow our Mom Boss board here.
Momtrends was not paid for this post. We were given samples for review.
For even more Momtrends, follow us on Facebook, Twitter, YouTube, Pinterest and Instagram.