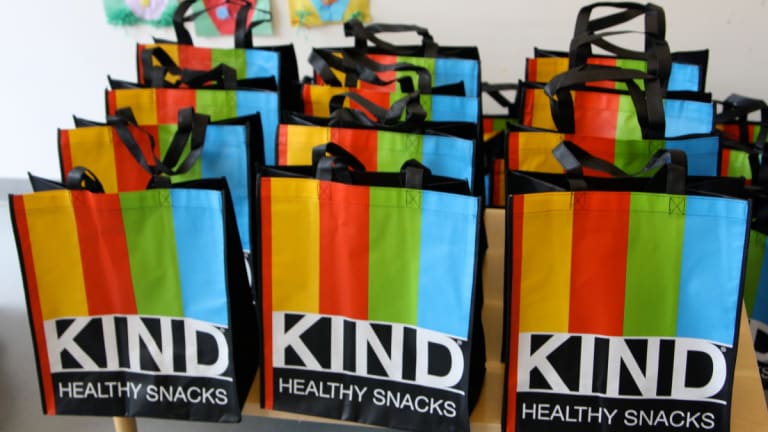 Do the KIND Thing with Tiffani Thiessen
Do the KIND Thing: Our favorite snack bar recently partnered with our favorite charity to issue a nationwide challenge for kindness.
Our favorite snack bar recently partnered with our favorite charity to issue a nationwide challenge for kindness. The Do the KIND Thing initiative was supported by celebrity moms Tiffani Thiessen (White Collar) and Elisabeth Rohm (Law & Order) who asked people to do one kind thing and where they would both pay it forward in support of Baby Buggy and deliver diapers and other necessary parenting supplies to families in need in NYC and LA, respectively.
Related: Printable gratitude activities for kids
Through this successful campaign people from around the U.S. have been doing everything from lending a hand to a parent, held the door to someone with a stroller and offered babysitting services. Through this KIND Healthy Snacks hopes to ignite a national movement where if enough people sign up the KIND Team will facilitate a BIG KIND Act for a group of people that really needs it!
To celebrate the success of the New York Do the KIND Thing, Tiffani Thiessen was on-hand to give families in need diapers. Held at Little Sisters of the Assumption in NYC, mothers of small children lined up to receive their generous diaper package as Tiffani dotingly remarked on each child - commenting on how cute or special they all are.
Speaking about the cost of diapers, Tiffani noted that it takes families in NYC two hours of minimum wage work to purchase just one package of diapers. This was really interesting to hear since many people don't realize that they are not affordable to families in need.
As a part of this amazing campaign, Tiffani noted that the power of collective kindness can make a huge difference and through this campaign she is excited to see the impact of giving back. As a mom of a young daughter she also spoke of how 'selfless acts of kindness' have been an amazing experience for her as she is raising awareness with Baby Buggy. She is thrilled to get the conversation started about these issues as well as to be a part of the solution.
MORE KID-CENTRIC FUN FROM MOMTRENDS
PIN IT!
Need more ideas on what to do with the kids? Be sure to follow our Activities to Do with the Kids board on Pinterest here.
Momtrends was not paid for this post. We are proud supporters of this campaign.