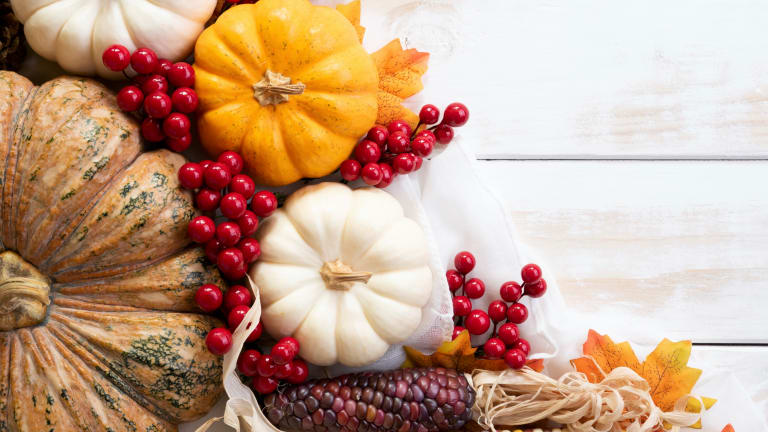 Thanksgiving Day Food Trends
From turkey treats to side dish recipe ideas, here's a look at Thanksgiving by the numbers.
We love scouting style trends, but with Thanksgiving a few weeks away we are also checking out the latest food trends. A new survey conducted by Pillsbury uncovered what the nation is cooking up this and challenges Americans face when making and planning for their beloved holiday meal. 
Related: Thanksgiving gratitude free printables
Thanksgiving Day Food Trends
From turkey treats to Thanksgiving recipe ideas, here's a look at Thanksgiving by the numbers:

Most, but not all, will indulge in turkey on Thanksgiving. While the vast majority of tables will include turkey as the mainstay, one-in-six (16 %) say they've started offering alternatives or are likely to try different preparations for the bird. Additionally, while Thanksgiving may be uniquely American, there is still room to infuse family traditions from other countries as one-in-10 respondents like to serve foods specific to their culture.
Vegetable variety reigns on the Thanksgiving table. Vegetables like corn, carrots, broccoli, peas and green beans, especially in casserole form for more than half of Americans make popular side dishes. Other side staples include stuffing/dressing, potatoes, yams and sweet potatoes, as well as cranberries.
Bread, in a variety of forms, is a prominent participant in the holiday meal. More than three-quarters of families will pass a bread basket at the Thanksgiving dinner table, including rolls (62%), and another third (35%) opt for biscuits or crescents as their bread of choice.
What's for Dessert? Pie, of course! For nearly nine-in-10, dinner is not complete without pie. Pumpkin is the traditional favorite across the U.S. (67%), with apple (56%) on tables in the northeastern U.S. and pecan (43%)on tables in the South. Of those surveyed, 37 percent exclusively serve homemade, while the others don't have time, don't know how, or believe it is too difficult.
Homemade = Love. Additionally, 89 percent feel that preparing homemade foods shows loved ones how much they care. But nearly half of Americans admit that the Thanksgiving meal is the most stressful holiday meal to prepare with 72 percent of respondents looking for tips and tricks to prep the holiday meal more quickly.
MORE THANKSGIVING INSPIRATION FROM MOMTRENDS
PIN IT!
For more Fall crafting fun, be sure to follow our Fall Thanksgiving & Halloween board here.
Momtrends was not paid for this post.