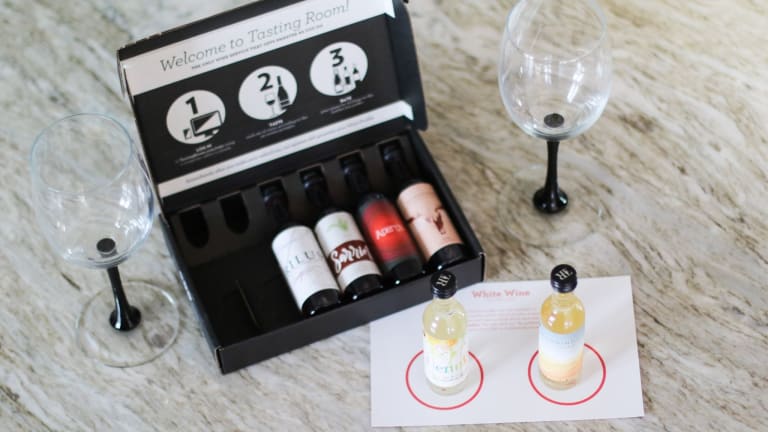 Sampling Wine from Tasting Room by Lot18
Tasting Room is a great way to learn more about your wine preferences as well as try something new from home.
Do you know your wine? I am one of those people that knows what I like when I try it, but I have a hard time picking bottles. I rely on word-of-mouth or store retailers to help me out. But with the world turning virtual, it makes sense that how we buy wine would follow. To help me out, I have been testing out wine using selections from the Tasting Room by Lot18.
Related: Seven wine pairing tips for grilled summer foods
As the first-of-its-kind wine club, Tasting Room by Lot18 allows customers to taste and rate mini bottles of wines before they blindly commit to the full case. This allows them to sample various small bottles and then record your taste preferences to create a custom wine profile - so that you always get a wine that reflects what you love. This can help consumers to take the guesswork out of buying and shopping for wine while also bringing a level of personalization to the process.
I tested out a box with three red and three white bottles. I normally gravitate to red wine, so it was actually nice to sample something outside of my comfort zone. As a consumer tries the various wines, then can login in to TastingRoom.com/rate and enjoy an online wine tasting. I found this part to be very user-friendly as the website walked me through a tasting. I had the chance to pick which wine to start with (I opted for the Loophole) and then clicked on if I liked it more or less than the previous wine I tried. 
After a few more questions like this, I was given a personalized and easy-to-understand (not always the case with wine lingo) profile based on my tastes and preferences. This included a curated selection of wines with a profile that stated, "You like wines with substance and depth?wines worth contemplating. (Odds are, you prefer PBS to TLC.) 
Whatever the grape, you enjoy a red wine you can chew, regardless of fruitiness, earthiness or body." This also included a profile for white wine as well as what foods go with the wines that they suggested, tips on how to order wine, my personalized tasting graph, info on where wine comes from, and what they call 'nerdy info' - providing me with educational information about wine. I literally had all of the information that I needed for a summer party right from this cool online interface.
At only $9.95 to join, which covers the mini-bottle tasting kit as well as its shipping cost, Tasting Room is a great way to learn more about your preferences as well as try something new from the comfort of my home.
MORE WINE IDEAS FROM MOMTRENDS
PIN IT!
Looking for more food ideas? Check out the Momtrends' Wine Time on Pinterest!
Momtrends was not paid for this post.
We were given samples to test out this service.