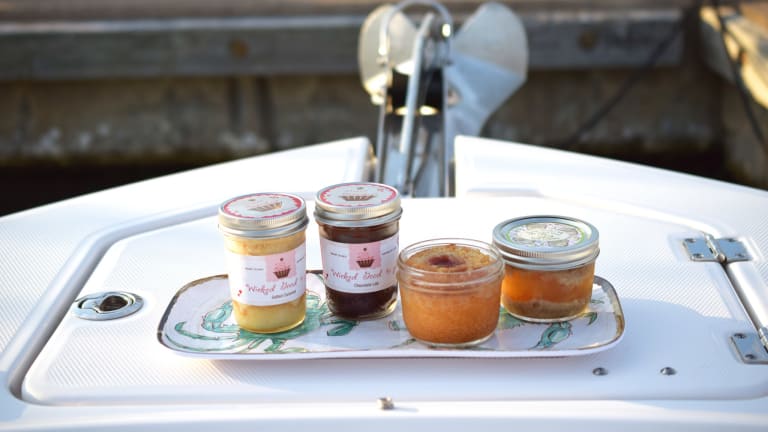 Publish date:
Sweet Treats from Wicked Good Cupcakes
Bursting with flavor and sweetness, this unique system makes it easy for anyone to enjoy Wicked Good Cupcakes.
Bursting with flavor and sweetness, this unique system makes it easy for anyone to enjoy Wicked Good Cupcakes.
I recently had the chance to samples some pretty sweet treats from Wicked Good Cupcakes, and this is no ordinary cupcake. These delicious cupcakes are packaged in cute jars making them perfectly transportable.
Related: Carrot cake cupcakes
Wicked Good Cupcakes
Started by mother-daughter team Tracey Noonan and Danielle Desroches when the started to take their passion for cake decorating to the next level and create their own business. Featuring only the finest, high quality ingredients including Callebaut, Scharffen Berger and Guittard chocolate as well as fresh fruit and locally produced products, the company has a popular following that includes a catering division and unique Wicked to Go line that allows anyone in the US to test out their amazing cupcakes.
Everything is Cute in a Jar
Since I am not in the Cohasset, Massachusetts area where the company is located, I was able to test them out through their Wicked Good To Go line where cupcakes were delicious packed in an airtight jar. Having had many cupcakes in my day, I loved this unique idea that allowed cupcakes to be delivered to any part of the country.
Aside from that amazing offering, I loved the taste of the cupcakes - specifically the Sea-Salted Caramel one that includes layers of chocolate that were sandwiched between buttercream, caramel and the delicious fondant seashell. Marble Mutt was another favorite with its moist blend of chocolate and and vanilla cake that was blended with buttercream frosting. Other delicious varieties in the Wicked to Go line include Reverse Birthday Cake, Cookies n Cream, Whole Lotta Lemon, Cuckoo for Coconut, Peanut Butter Surprise, Chocolate Lab, Natalie's 24 Karat Kake and Hummingbird. 

Five Tips To For a Girl's First Leg Shave
Do you remember your first time shaving? Mine wasn't pretty. I snuck my dad's razor and shaved my legs dry. It wasn't pretty. Get your daughter ready for this rite of passage with the right tools and a quick education. We've got five tips to help you navigate your daughter's ...read more
Why You Should Add Wild Blueberries to Your Diet
Do your New Year's goals involve healthier eating? Adding more fruits and vegetables to your diet? Or even adding tasty new recipes to your repertoire? We've got five reasons for you to add wild blueberries to your diet. Our friends from the Wild Blueberry Association have ...read more
Why Moms are Loving This Blueberry Couscous Salad
It's blueberry picking time. And while most blueberry recipes revolve around baked goods, we've got something different to share. First, a few sentences singing the praises of this lovely fruit. Blueberries are high in antioxidants, improve memory function and reduce the effects ...read more
Available in two sizes - 16oz and 8oz. - the jars can last for 7-10 days without refrigeration and includes about 2 3/4 cupcakes for the 16oz size and 1 3/4 cupcakes in the 8oz jars.
Bursting with flavor and sweetness, this unique system makes it easy for anyone to enjoy Wicked Good Cupcakes whether you are in Massachusetts, New York or any part of the country.
For more information, please visit: http://www.wickedgoodcupcakes.com/
MORE BAKED GOODIES FROM MOMTRENDS?
PIN IT!
Use Pinterest to save your favorite recipes ideas. Be sure to follow our Sweet Treats Board here.
Momtrends was not paid for this post.