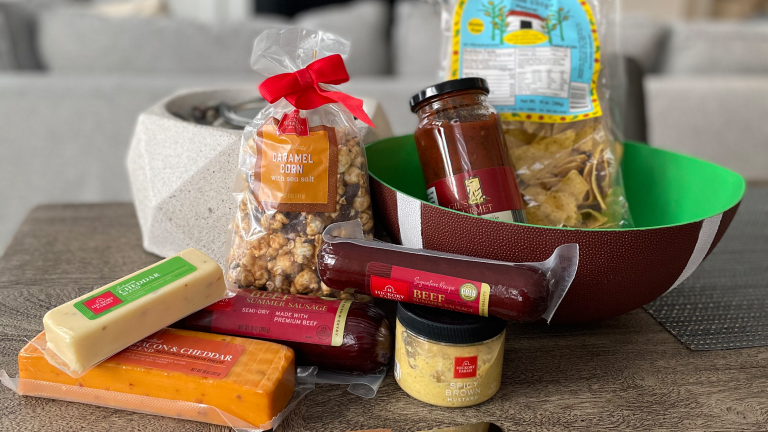 Super Bowl Party Ready Appetizers
With the big game being just a little over a week away, I though now would be a great time to share some delicious Super Bowl party ready fare.
With the big game coming up, I though now would be a great time to share some delicious Super Bowl party ready fare that's easy to whip up in a flash. Now keep in mind, you don't actually have to invite a slew of people over to have a Super Bowl Party. You can simply put together a fun little party for your family with these Super Bowl Party ready appetizers. We do it ever year, even if it's just for our family! 
Celebrate the Super Bowl at Home
I got an amazing Big Game basket from Hickory Farms and started dreaming up some ideas for Super Bowl watching on Sunday. I wanted to keep the appetizers simple, but savory and delicious. This basket is basically an excuse to party! Here's what I came up with.
Four Super Bowl Inspired Snacks for the Big Game
For my game day prep, I pick up some cute paper goods, whip up some delicious appetizers and then settle in together to watch the game. During the winter, it's great to have a reason to gather everyone together to cheer, even if your team didn't make it this far. 
Savory Snack Cups
The Hickory Farms website had this awesome idea for grab and go snacks. Kids love eating out of fun containers (who can blame them). The only prep work this requires is a bit of chopping --even the kids can get involved. Create single-serving charcuterie cups by placing meat and cheese favorites in plastic cups. Serve in your team's colors to represent who you're rooting for.
Momtrends Tip: Don't forget to sneak in some colorful veggies too!
Another idea is to use Hickory Farms summer sausage and cheese to make snackable plays. Again, the only prep work is chopping -- I love the simplicity. To create: Grab a slate serving board and some chalk to make this idea even more festive. 
Get the Game Day recipes and inspiration here. 
Onion Dip
This is my kinda appetizer...meaning it's super simple to make. Haha! No Super Bowl party is complete without dip in my book. I love that this recipe can be whipped up during the span of a few commercials. In mere minutes you'll be back at your spot on the couch. Haha! 
Get the Onion Dip recipe here.
Slow Cooker Sweet and Sour Meatballs
All hail the slow cooker! It seems like you can make anything in it these days, including tasty appetizers. These meatballs from BonBon Rose Girls look like the perfect combination of sweet and sour...MMMMM! 
Get the Slow Cooker Sweet and Sour Meatballs recipe here.
Parmesan Zucchini Crisps
It is possible to serve some healthy fare on Super Bowl Sunday! Just like I don't believe we have to sacrifice style for comfort, I don't want to serve anything that doesn't taste good. And while these zucchini crisps from Sweet Sunny Days are a better alternative than traditional potato chips. your guests won't be missing out on flavor! 
Get the Parmesan Zucchini Crisps recipe here.
So, no matter who you're rooting for this year, I hope you have a blast at your Super Bowl party! I don't have a horse in this race, so you'll find me simply enjoying some family quality time...and eating...There will be eating. Haha!
If you need an even bigger spread, get inspired by our Super Bowl Party Nacho Bar Bacon Chile Recipe. I hope your team wins!
MORE SUPER BOWL IDEAS FROM MOMTRENDS
PIN IT!
Save your favorite recipes and ideas from our The Big Game Pinterest board here.

Momtrends was not paid for this post.