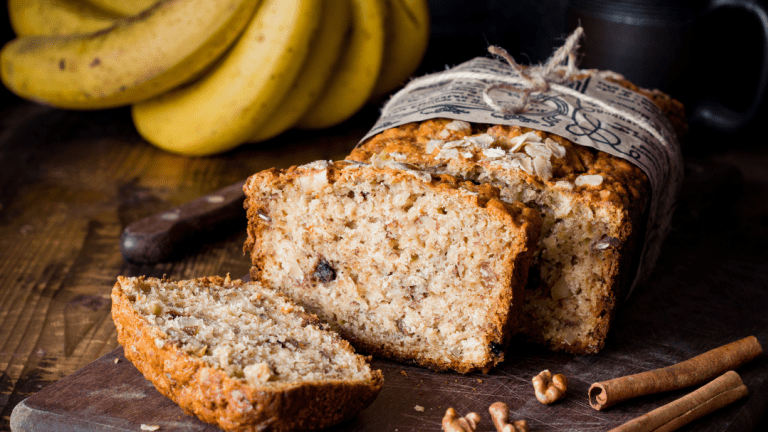 Sugar Free Banana Bread Recipe
Cooking with Truvia--a new natural sweetener from the Stevia plant that offers moms a chance to cut down on the sugar they feed their kids.
This week we sat down with actress and chef Debi Mazar and we talked about sweets, motherhood and new opportunities. The actress is working with Truvia--a new natural sweetener from the Stevia plant that offers moms a chance to cut down on the sugar they feed their kids. Stevia is a plant (a member of the chrysanthemum family) that has been used to sweeten foods and beverages for more than 200 years.
Related: The ultimate banana bread recipe
Our lunch was made by celebrity chef Sam Talbot at the gorgeous Imperial No. 9 restaurant in Soho. The chef incorporated Truvia into his desserts to rave reviews. And even better, he also created signature drinks with Truvia. Yum.
Debi and I chatted about our mutual love of food and our concern for health. "Birthday parties are a sugar-fest," said Debi. She's got two young girls and is concerned about her family's nutrition. She says the family shops, cooks and eats together. Her brood heads to Ralph's on the West Coast as well as farmer's markets. "We sit down to dinner together seven nights a week," says the actress. 
Now that Entourage in its last season, Debi is excited to devote her attention to "Extra Virgin" her new cooking show. This week I'm sharing one of the Debi's favorite recipes from Truvia. We love how the sugar is trimmed out of this classic baked treat. 
Sugar Free Banana Bread Recipe

Yield: 12 slices (1 slice per serving)
Ingredients for Sugar Free Banana Bread Recipe
1 1/4 cup flour
3 1/2 Tbsp Truvia natural sweetener spoonable*
4 Tbsp sugar
1/2 tsp baking powder
1/2 tsp baking soda
1/2 tsp salt
3/4 cup (about 2 medium) very ripe bananas; mashed
1/3 cup buttermilk
1 large egg
1/3 cup butter; melted and cooled 1/2 tsp vanilla extract Non-stick cooking spray
* or 12 packets Truvia natural sweetener
Directions for Sugar Free Banana Bread Recipe
1. Preheat oven to 350°F. Spray 9x5x3 inch loaf pan with non-stick spray.
2. Whisk together the flour, Truvia natural sweetener, sugar, baking powder, baking soda and salt in a large bowl. Set aside.
3. Mix the mashed bananas, buttermilk, egg, butter and vanilla in a medium bowl.
4. Lightly fold the banana mixture into the dry ingredients until just combined. The batter will be thick and chunky. Don't over-mix or your loaf will be small and tough.
5. Scrape the batter into the loaf pan. Bake about 55 minutes until golden brown and a toothpick inserted in the center comes out clean. 6. Cool in pan for 10 minutes; transfer to wire rack.
Nutrition Facts
Calories 130; Total Fat, 6g; Saturated Fat, 3.5g; Trans Fat, 0g; Cholesterol, 30mg; Sodium, 180mg; Total Carbohydrate, 21g; Dietary Fiber, 1g; Sugars, 6g; Erythritol, 3g; Protein, 2g; Vitamin A, 4% DV; Vitamin C, 2% DV; Calcium, 2% DV; Iron, 4% DV.
More Tasty Ideas from Momtrends
PIN IT!
Use Pinterest to save your favorite recipes ideas. Be sure to follow our Recipes to Inspire Board here.
Momtrends was not paid for this post. We did get a terrific lunch.