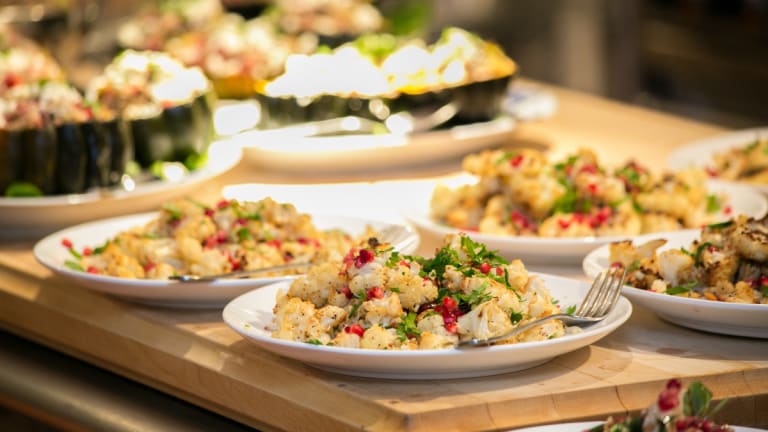 Pomegranate Chicken Salad Recipe #CookWithPOM
Last night, Momtrends and POM Wonderful hosted an intimate group of New York City bloggers for an evening of cooking, cocktail-making, dining, and dishing with friends. 'Tis the season after all--Pomegranate season! Those juicy ruby red delights are finally back, just in time for festive meals and holiday celebrations.
While whole pomegranates are beautiful and bountiful, they can admittedly be a little tedious to work with--especially when you're digging for those flavorful arils. And that's why we're so excited about POM POMS Fresh Pomegranate Arils. They are fresh, ready to go, and so easy to cook with. They come in a ready-to-serve package. My kids love snacking on them, and I love adding them to meals. In terms of nutrition, POM POMS Fresh Pomegranate Arils have vitamin C, fiber, and they are loaded with antioxidants.
Bloggers were able to get a hands-on cooking lesson from the pros at Miette Culinary Studio. We whipped up some incredible apps, entrees, and a decadent dessert (that was actually pretty healthy!). I'm sharing three of my favorite recipes from last night's event, below--and my own signature recipe for pomegranate chicken salad. For more inspiration and recipes, visit Pom Wonderful. Enjoy--and get your hands on some POM POMS while they're here!
Dapper Devil Cocktail
2 oz. POM Wonderful 100% Pomegranate Juice
2 slices of jalapeño
1.5 oz. Aviation Gin
Club soda
Twist of lime
Ice
Moroccan Shrimp With Pom Poms (10 appetizer servings)
1.5 cup Pom Poms Fresh Arils
1 lb. large shrimp, peeled and deveined, with tails
3/4 teaspoon ground cumin
3/4 teaspoon ground coriander
1/4 teaspoon ground cinnamon
3/4 teaspoon kosher salt
1.5 tablespoon olive oil
4 cups baby arugula
For the Sauce
4 cups POM Wonderful 100% Pomegranate Juice
1.5 cups sugar
1/4 cup fresh lemon jiuice
Directions:
For the sauce, in a pot over a high heat, stir together POM Wonderful 100% Pomegranate JUICE, sugar, and lemon juice until the sugar dissolves. Boil util liquid thickens and is reduced to one cup (approx 45 minutes).
Toss shrimp in a bowl with cumin, coriander, cinnamon, salt, and olive oil and stirl to coat.
Heat a grill pan over medium heat. Add shrimp and cook two minutes per side until pink and opaque. Brush shrimp with sauce. Serve arugula on the side tossed with lemon juice and olive oil. Top shrimp and arugula with Pom Poms Fresh Arils for serving.
Roasted Salmon With Pom Poms Salsa (6 servings)
8 oz. Pom Poms Freh Arils
1.75 lbs. salmon filet
1/2 cup chopped flat-leaf parsley
1/4 red onion, sliced
1 lemon, zested and juiced
Directions:
Heat broiler to high with rack 6 inches below the broiler. Season salmon with sea salt and pepper. Place salmon on a foil-lined pan and broil until cooked through.
Stir together the Pom Poms Fresh Arils, parsley, garlic, lemon zest, lemon juice, 2 tablespoons olive oil, and 1/4 teaspoon sea salt. Spoon salsa over the salmon.
I make a salad for lunch almost every day. I'm sharing one of my new favorites my Pomegranate Chicken Salad Recipe. Trust me when I tell you it's loaded with flavor.Getting variety and great flavors into each day can be a challenge. Lately I've been on the hunt for some inspiration and I found it with pomegranate arils.
Look at the gorgeous colors of the arils--POM POMS Fresh Pomegranate Arils totally inspired me. Not only do they look fantastic in a salad, they also add a great punch of flavor. Pomegranates have a combination of sweet and tart--making them perfect with greens.
Pomegranate Chicken Salad Recipe
Serves 2
Salad Ingredients
1/2 cup POM POMS Fresh Pomegranate Arils
1/2 cup walnuts
1/2 cup chopped celery
1 cup sliced chicken
4 cups mixed greens (I like a little arugula mixed in)
Directions: Combine all ingredients, add dressing, toss, mix in dressing serve over greens.
Dressing Ingredients
2 tablespoons EVOO
1/4 tablespoon honey
1/4 tablespoon mustard
pinch of salt
Directions: Combine all ingredients in a small jar and shake vigorously.
This makes two days of great lunches for me. The flavors are crisp and lively and not too heavy. I can definitely eat this two or more times a week and not get bored.
Don't wait to try this! Now is the time to cook with pomegranates, they are only available from October through January. Look for them in the refrigerated section of your produce department then get creative in the kitchen. Here's the quick and delicious recipe we put together to celebrate taste.
I know it's sad to think you can only enjoy these for a few months a year. But I've got a TIP: Frozen pomegranate arils can last for many months in the freezer. To freeze pomegranate arils, spread them in a single layer on a baking sheet lined with wax paper. Place in a freezer for two hours or until frozen. Transfer frozen pomegranate arils to a resealable plastic bag or container.
This is a sponsored post.