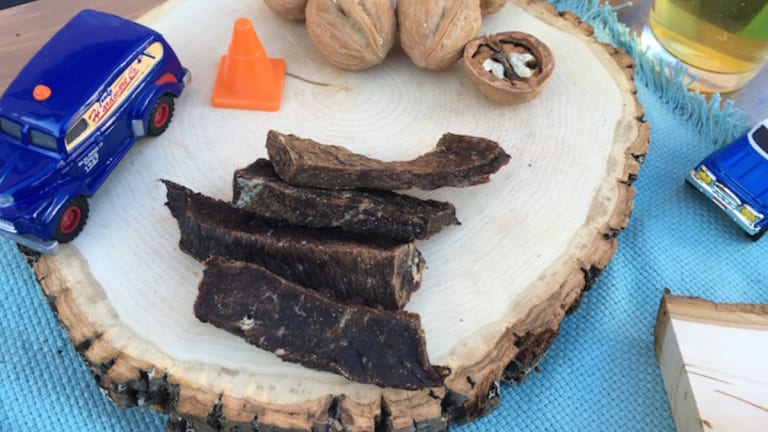 Plan a Fun Father's Day Lunch with Kids
To make dad feel extra special, plan a fun Father's Day lunch complete with a creative menu and DIY dad crafts.
We love our dads. They are our comedians, our support systems, our chauffeurs, our lifelines... And we want that oh so special fella in our life to relish in the attention we shower him with this year on Father's Day. To make him feel extra special, first we want to set the mood with some fun DIY decorations.
Related: DIY Father's Day mug donuts for dad
Plan a Fun Father's Day Lunch with Kids
First we need to make the lunch festive. A day or two before the festivities we did a little kid-friendly crafting. We found these blank wooden letters that spell out D-A-D. Then we grabbed some paint pens (made for decorating wood) and with a few simple lines, we turned them into chic, save-worthy, decor which dad can put on his desk or shelf later. I bet he'll smile every time he looks at it!
Make a Father' Day Banner
Next we used some blank canvas banners (left over from another Father's Day craft) to make a special sign letting dad know just how much we care. Hearing, or in this case seeing, I love you never gets old.
Fun Father's Day Lunch Menu with Kids
And because we know Father's Day isn't just about the mushy stuff, we made a delicious BLT sandwich and added beef jerky, walnuts, and beer to the menu. Food is definitely the way to my dad's heart. Haha! And isn't this furniture fantastic? Remember it from that IKEA patio makeover we did? Now we feel confidant having celebrations like this one outdoors in our fabulous revamped space.
Now we know you've got some toy cars lying around the house. Adding them to the table creates a little bit of whimsy and celebrates dad's playful side. They can even house portions of the snacks! Is this a fun tablescape or what?
We hope you like these ideas and get inspired to treat your dad to a delicious Father's Day lunch too!
MORE FATHER'S DAY IDEAS FROM MOMTRENDS
PIN IT!
Use Pinterest to save your favorite ideas and organize your life. Be sure to follow our Fathers Day board here.
Momtrends was not paid for this post