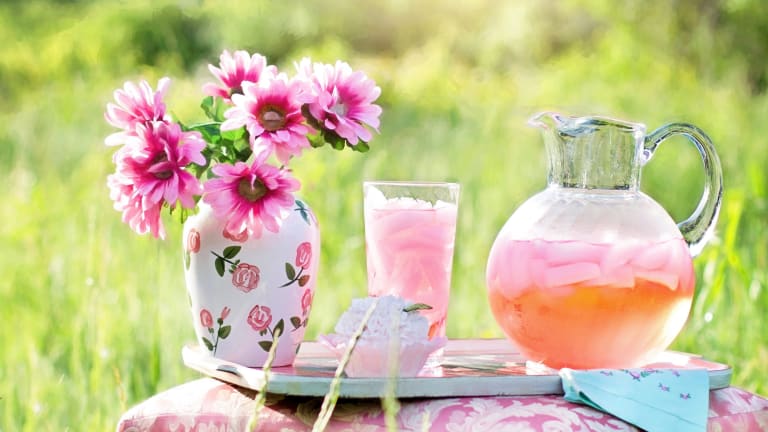 Pink Lemonade Shandy
We shared our super easy Pink Lemonade Shandy recipe. It's the perfect drink for summer as it's very refreshing! Hello summer parties!
If you know me, you know I LOVE my craft beer. In fact, I encouraged you to try out local breweries when traveling last week. I have to say that practice what I preach folks. Even when I'm not on a vacay I make it a habit to sample our local breweries. One of my favorites here in Tampa is Cigar City Brewing. Their Oktoberfest is the best I've tasted...like ever, but I digress...I'll have to wait a few more months until I get my Oktoberfest fix. Haha! In the meantime, I'm having a blast sampling their lighter brews like their classic Lager which happens to go perfectly with pink lemonade!
Related: Sparkling rose summer sangria cocktail recipe
As much as I love drinking craft brews on their own, I also have just as much fun experimenting with beer "cocktails," and this week I decided to take on the summer favorite Shandy reciie. Instead of mixing up my Shandy with regular lemonade, which is delicious too, I went the pink lemonade route. And I just told you what the only two ingredients in this summer-ready drink are. All you have to do is pour equal parts of the lager and the pink lemonade in your pint glass and you're good to go. Easy peasy right? Cheers!
Ingredients:
6 oz. lager
6 oz. pink lemonade
The next time you have the girls over instead of cracking open a bottle of wine, why not serve them a sinfully sweet Pink Lemonade Shandy? 
MORE COCKTAILS AND ENTERTAINING IDEAS FROM MOMTRENDS
PIN IT!
Use Pinterest to save your favorite cocktail ideas. Be sure to follow our Drinks board here.
This is not a sponsored post.