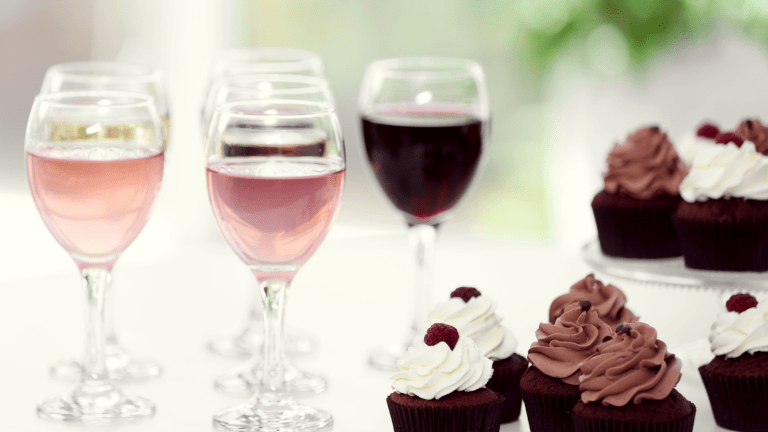 Perfect Pair: Cupcake Wines + Sprinkles Cupcakes
We're celebrating the power of a perfect pair cupcakes times two!
Raise your hand if you like cupcakes. On today's edition of Saturday Sips, we're celebrating with cupcakes times two! We're doing the hard work of finding the perfect pairing between Cupcake Vineyard wines and actual cupcakes from Sprinkles. Let the fun begin!
Related: Halloween candy and wine pairings
First, let's point out that a wine and cupcake pairing party is the perfect reason to get a bunch of your favorite mommas together for some girl time. Cupcake Vineyard wines are easy to find across the U.S. and Sprinkles has 24 locations to choose from including their cupcake ATMs - have you heard of these?!
I reached out to my friends at Vivino, my favorite wine app for checking out tasting reviews, cataloging your favorite bottles, and finding new wines to try, for help. There is, it turns out, a science to cupcake and wine pairing. ""The trick is to match the flavors of the cake with the body of a wine -- full-bodied reds with decadent dark chocolate, for example," explains Laura Burgess, one of Vivino's partner sommeliers. 
"And don't be afraid to reach for something extra fruity and sweet! Fruit flavors and the sugars in off-dry wines help the pairings feel light, fresh and delicious, instead of clunky and bitter. Rest assured, you can have your cake and drink your wine too!"
Laura gave us four Cupcake Vineyard wine + Sprinkles cupcake pairs to test out. Time to roll up our sleeves and take these pairings for a delicious spin...
Sauvignon Blanc + Lemon
"Sauvignon Blanc, especially bottles from New Zealand or California, are known for their refreshing, tropical fruit flavors and aromas which naturally compliment the gorgeous lemon flavors in a zest-topped lemon cupcake. Citrusy and bright, the pairing is like sunshine in your mouth!"
Chardonnay + Carrot
"The oaky tones of Chardonnay -- like vanilla, cinnamon, and butter -- beautifully contrast with the aromatic spices of carrot cake that make these cupcakes perennial favorites and this pairing a standout. Plus, lively golden apple and lemon flavors in the wine keep you feeling light, no matter how rich that cream cheese frosting may be."
Prosecco + Sprinkle / Classic Birthday Cake
"Classic birthday cake is often extremely sweet, especially when topped with rich buttercream, so the best wine pairing should contrast the candy flavors with palate-cleansing bubbles. A lightly aromatic Prosecco will (literally) wipe your palate clean with its acidity and carbonation, leaving you ready for the next bite (or three)."
Decadent Red + Dark Chocolate
"Dark, bittersweet chocolate and red wine like Cupcake's Decadent Red are truly a classic match made in heaven! Because dark chocolate isn't overly sweet, it won't make a dry red taste bitter, and the richness of the frosting will temper the tannins in the bold red wines."
After a bunch of rigorous testing, the favorite pairing of the bunch was deemed the oaky Chardonnay with the spicy sweetness of the carrot cupcake. Plus, it counts towards our daily dose of fruits and veggies, right? 😉
Cheers!
MORE WINE IDEAS FROM MOMTRENDS
PIN IT!
Looking for more food ideas? Check out the Momtrends' Wine Time on Pinterest!
Please drink responsibly. Momtrends was not paid for this post. We were provided with samples.