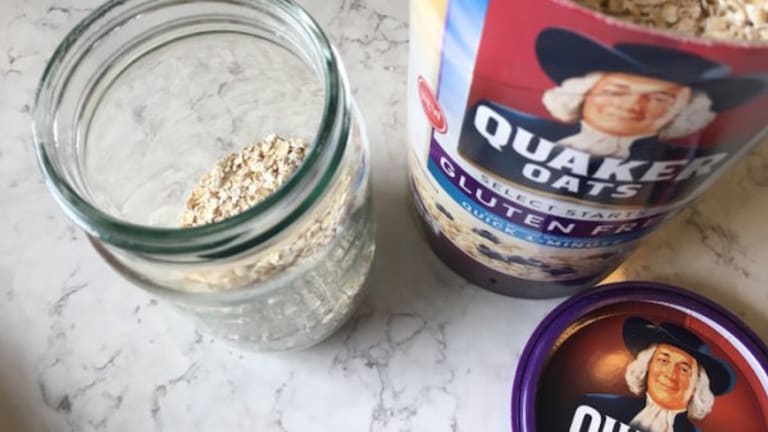 Overnight Oats Recipe: Best Breakfast Ever
Prep ahead and sleep in with this quick and easy overnight oats recipe.
I've been seeing oodles of "overnight oats" recipes on Pinterest for ages and I'd always wanted to try my hand at making one. I love oatmeal, but mornings have become a circus at my house and all the steps required to make my favorite meals are at the bottom of my AM to-do list. I've found this quick and easy overnight oats recipe is the best breakfast ever and the best part is you do all the work while you're sleeping.
Related: 10 fun green eggs and ham inspired breakfasts
So, overnight oats became the logical answer. And what a wonderful answer it is. If you haven't tried overnight oats for yourself yet, seriously, you're missing out. This recipe is perfect for the entire family---everyone can customize their own so there won't be any complaining (theoretically) the next day. Now you can put all those mason jars (c'mon, we know you have loads of them too) to good use.
Overnight Oats Recipe Ingredients
Mason jar or air tight container
"Easy" oats or minute oats
Yogurt
Water
Here's what you'll want to use:
Nuts
Fruit
Chia seeds
Flaxseed
Peanut Butter
Cinnamon
Overnight Oats Recipe 
1. First, you add the oats. I put in about 1/4-1/2 cup depending on how big the jar is.
Then add a little bit of water---only about 2/3 cup.
Next, layer on your yogurt of choice. I've been obsessing over Nounos small batch yogurts. They are ridiculously creamy, they come in interesting flavors, and are each packaged in an adorable glass jar. Win-win-win.
Then comes the fun part. You get to add in any kind of nuts or fruits you like. I chose walnuts, mixed berries, bananas, and Justin's peanut butter.
When it's all said and done, you have a delicious and healthy breakfast concoction that's entirely customized to your palate.
MORE FOOD FEATURES FOR YOUR FAMILY FROM MOMTRENDS
PIN IT!
Use Pinterest to save your favorite recipes. Be sure to follow our Kid Food Pinterest board here.
Momtrends was not paid for this post.