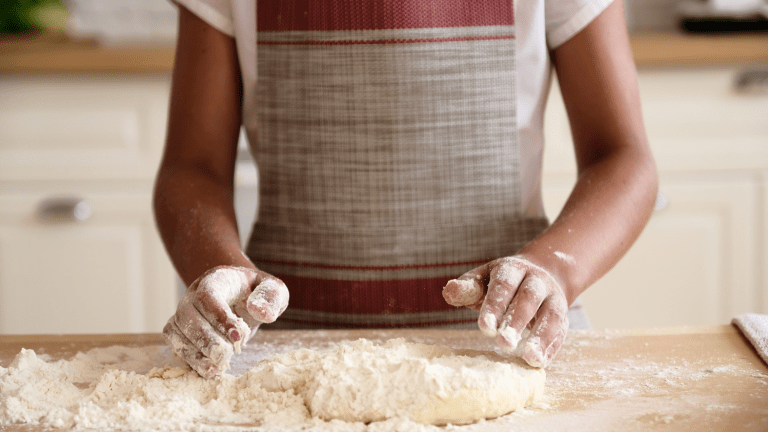 How to Start Cooking with Kids
Five tips to get your family off to a great start in the kitchen.
Cooking with kids is a great bonding experience as well as a fun way to teach them about measurements, new flavors and how a meal actually comes together. It also helps kids learn how to get organized, learn math, and think logically and in steps as you create new recipes together. I love doing this with my three-year-old who enjoys mixing and pouring as she is learns more about food and different flavors. It is also a really exciting way to spend time together and start a new tradition as well as a way to try out a new tasty treat. 
Related: 10 Best Wooden Play Kitchens for Kids
Five tips for Cooking with Kids
Here are some tips to easily incorporate cooking with your kids into your home.
Start Simple. It probably isn't realistic to think that you and our child are going to whip up something intricate like a souffle. Start with something simple like your child's favorite treat so that they can learn and see the entire process of how a banana bread or their favorite cookie comes together. Plan what you are going to make ahead of time taking into consideration your child' age and attention span. Also, give them specific tasks - whether it is mixing, stirring or pouring. Make sure they know what it is next and be sure to have plenty of patience if flour ends up on the floor or eggs are on the table. When cooking with your kids, remember that mess is part of the process.
Let them Smell. Smelling food is a great way for your kids to get connected to new flavors. If you are working with spices, have them smell each one (especially great for fresh herbs) where they can what each one is as well as introduce new ingredients. Touching herbs and new ingredients is also a great way for your kids to get connected to new foods.
Supervise. Create a safe environment for cooking and this may seems obvious but never leave your children unsupervised with knives or by the stove.
Practice Math. Have your kids measure ingredients in order to help them develop their organizational and math skills. For small kids, this can be something as simple as counting how many times they stir or how many ingredients are in a recipe.
Don't Forget Clean-Up. Cooking is the main event but cleaning up is still part of the event. Make sure that your kids have specific tasks - even if it something very basic. This might be a start, but hopefully, after a few times they will gradually clean more.

Easy Recipes to Get Kids Started in the Kitchen
Try these yummy kid-friendly recipes to get started
Easy Mini Pizza recipe to get started.
Make the most of the summer fruits with this fruit salsa recipe.
MORE FOOD FEATURES FOR YOUR FAMILY FROM MOMTRENDS
PIN IT!
Use Pinterest to save your favorite recipes. Be sure to follow our Kid Food Pinterest board here.
Serena Norr is a NYC-based writer/editor, soup-maker, and more importantly, a mama.