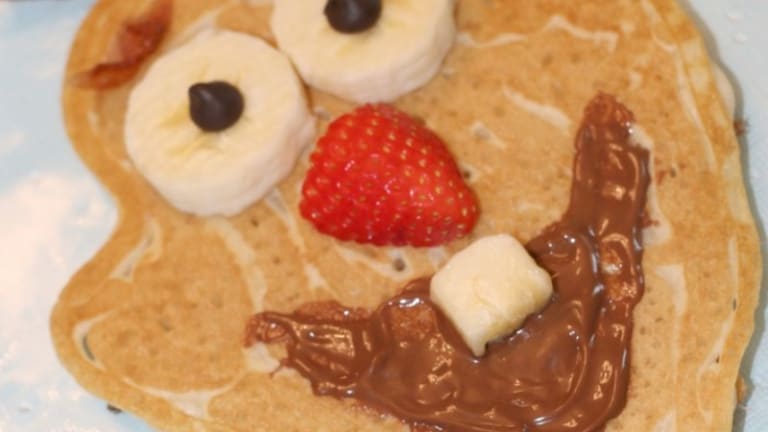 How to Make Olaf Pancakes
Frozen 2 is here and we've got a fun way to celebrate the movie and winter with Olaf Pancakes.
As a busy working mama, I cherish my weekends with my family...especially the Saturday mornings we get to spend together. With the arrival of the second Frozen movie, I'm sharing a favorite post on how to make Olaf pancakes.
There is nothing quite like waking up a little early to fix myself a steaming cuppa Joe while I wait for my babies to sleepily shuffle out of their rooms. By then my hubs has usually started to whip up breakfast and, more often than, not it's a big old batch of his delicious pancakes.
Frozen Breakfast Theme
It's been a little over three years since the last movie when Elsa made Olaf, and with his new permafrost, courtesy of Elsa's magic. Having learned to read, he's absolutely fascinated with the various wonders of life: Did you know that men are six times more likely to be struck by lightning than women? And did you know that water has memory? With his new curiosity for knowledge, and his "stop-and-smell-the-flowers" approach to life, Olaf is a source of hope in dark times. We can't get enough of him and his "can-do" spirit. 
Being that it's still all Disney Frozen all the time for my little girl (thank you Josh Gad for giving the voice of Olaf life), we decided that a Disney Frozen themed breakfast complete with Olaf pancakes would be a fun surprise for her! And how lucky are we that Bounty Prints Featuring Disney Frozen products are available? They were just what we needed to set off our themed breakfast. 
Directions for Frozen Pancakes
But first, let's start with how to make those Olaf pancakes I mentioned...
Mix up a batch of your favorite pancake batter. 
Next, fill a squeeze bottle with the batter. My husband, being the breakfast maestro that he is, used the batter filled squeeze bottle to free form create Olaf's face. 
Use cut up bananas and strawberries, as well as chocolate chips and bacon pieces to bring Olaf to life. 
Why we Love These Easy Olaf Pancakes
As you can see, our little Disney Frozen lover couldn't have been more thrilled with her special breakfast. By adding extra little touches like bow bedecked milk bottles, complete with icy colored straws, and Bounty Prints Featuring Disney Frozen, everything at our Disney Frozen breakfast table was perfectly on theme!
I chatted with a few blogging friends about my love of Olaf and they sure came through! I'm sharing a few more favorite Olaf recipes.
Seriously Cute Olaf Frozen Cookies Tammilee Tips.com 
Bento Frozen Olaf Lunchbox MomEndeavors.com
Sven Snackbars from DivineLifestyles.com
More Disney on Momtrends
Pin it! 
Save your favorite ideas to Pinterest and be sure to follow our All Things Disney board here.
This is How to Make Olaf Pancakes feature is not sponsored.