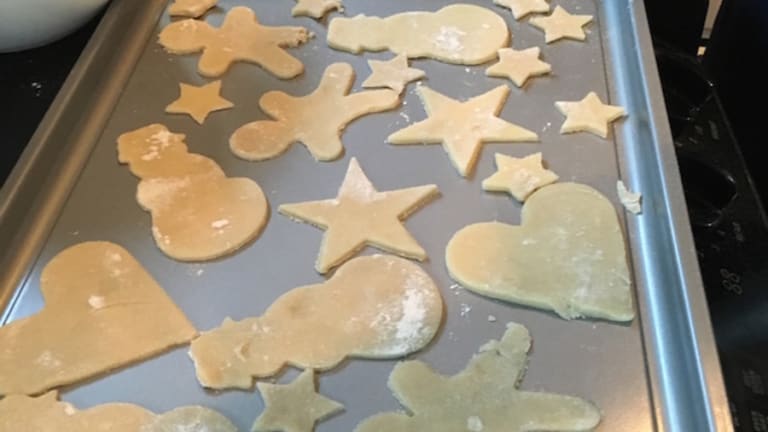 Holiday Playdate with Foodstirs
Save time on your cookie baking with these great foodie kits from Foodstirs
A Foodstirs baking kit helped this mom work some Christmas magic. Mom Guilt Alert: All those picture perfect baking moments on instagram and Pinterest were starting to get to me. Most years I roll out my family sugar cookie recipe and bake with the girls. This year, I seem to be short on time for EVERYTHING.
Rather than release the Scrooge inside, I reached for a Foodstirs playdate to mix up some holiday magic. Thanks to Foodstirs baking kits, my girls got to to roll and cut and decorate and I got to keep my sanity in check.
Foodstirs are baking kits sourced with the best ingredients possible. Imagine if you had all the time in the world to read labels and shop all over town for the best of the best to put into your baked goods. The ladies behind the brand do all that hard work for you AND they deliver to you in a tidy little package. Thankfully, I'd gotten a special delivery of the Foodstirs Sugar Cookie Mix this week at a special Momtrends event.
To celebrate the season, and the genius of Foodstirs, we co-hosted a holiday blogger breakfast at the Crosby Hotel in NYC. Foodstirs Founders, Galit Laibow and Sarah Michelle Gellar brought the food, we brought our favorite NYC influencers. We gathered to chat about food, parenting trends and social media trends.
What we heard is that moms and dads are stretched thin. We want to carve out those special moments and we most certainly don't want to feed our kids crud. But oh, there's so much to do. Especially this time of year. We all agreed that baking with kids is awesome--especially when the Foodstirs kits make it so easy.
Some of the big trends we see coming--more cooking kits geared towards boys, more grandparents hosting cooking playdates, and more parents relying upon delivery services to make life simpler. Foodstirs is one trend for moms we think is here to stay.
This is not a sponsored post. To find out more about Foodstirs visit foodstirs.com