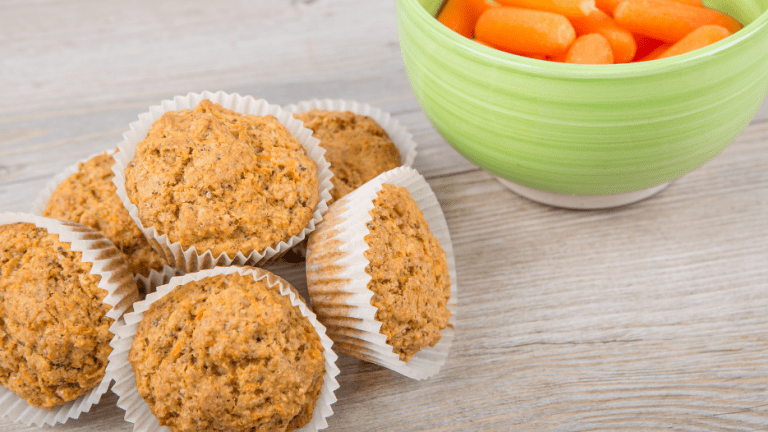 Healthy Mandarin Carrot Muffins Recipe
A couple weeks ago we hosted a wonderful event for some of our favorite influencers and their kiddos featuring snacking and crafting fun with Wonderful Halos Mandarins. Not only did we all get to nosh on some super tasty treats, but we walked away very inspired to head into the kitchen to experiment with a mandarin-focused recipe of our own!
Related: Carrot Cake Cupcakes
We all know how hard it can be to come up with creative ways to get our little ones to eat more fruits and veggies, especially when we're talking about snacks. So, we aren't above sneaking them into snacks that look like treats. Haha! Now we've always found that the cuter the presentation, the more likely they are to want to try our recipe. And what's cuter than mini muffins, I ask you? Not much! Thus, our healthy mandarin carrot-muffins recipe was born! These muffins make for an adorable bite-size snack that's perfect for the times your family has sweet cravings, but you don't want to serve up something loaded with sugar.
Healthy Mandarin Carrot Muffins Ingredients:
1 1/2 cup flour
1 chopped Wonderful Halos Mandarin
1 grated carrot
2 tsp baking powder
1/4 tsp salt
1 cup honey
2 eggs
3/4 cup milk
1/2 cup applesauce
1 tsp vanilla
1/2 tsp nutmeg
zest and juice of 1 Wonderful Halos Mandarin
36 mini cupcake liners
Healthy Mandarin Carrot Muffins Recipe
1. Preheat oven to 350 degrees and grease mini muffin tins or add muffin liners to mini muffin tins.
2. In a bowl, combine dry ingredients.
3. In another bowl, whisk together the honey, eggs, milk, applesauce, zest, juice and vanilla.
5. Add in the flour mixture and mix until everything is combined.
6. Fold in the chopped Wonderful Halos Mandarins and carrots.
7. Spoon the batter into the muffin tins evenly.
8. Bake for 20 minutes or until the muffins have risen. Cool for 5 minutes, then remove from the muffin tin. This recipe yields about 36 mini muffins.
9. Enjoy!
*Caution...You obviously don't want to undercook your muffins, but don't overcook them or they'll stick to the cupcake liners. You'll notice that the texture is more moist than traditional muffins, but they're tasty all the same!
Now our Wonderful Halo Mandarins fun didn't end there...We made a super craft with them too!
MORE EASTER IDEAS FROM MOMTRENDS
PIN IT!
Use Pinterest to save your favorite entertaining ideas. Be sure to follow our East Pinterest board here.
This is a sponsored post. The opinions expressed are our own.