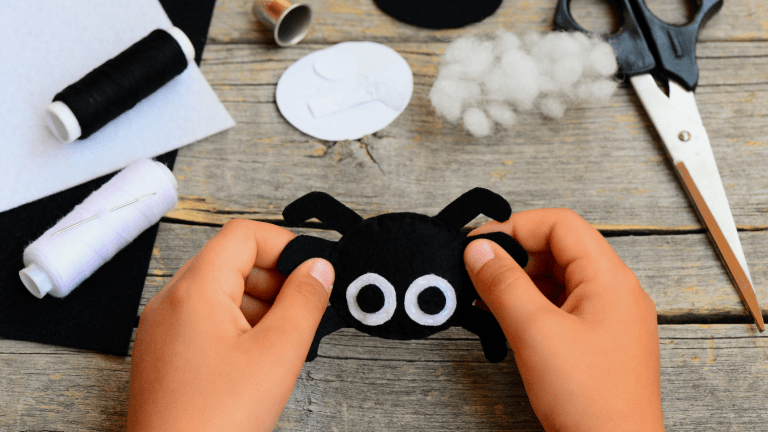 Halloween Crafts and Treats Round-Up
Halloween Crafts and Treats Round-Up: easy Halloween treats to help you get into the spirit of the holiday--perfect for the craft-challenged.
One week to go until Halloween! We're featuring these fun and easy Halloween treats to help you get into the spirit of the holiday. Trust us, these crafts and snacks are easy to do. They are perfect for the craft-challenged or for working moms who are spent.
Related: DIY Halloween graveyard
Halloween Crafts and Treats Round-Up
We've got a dozen crafty ideas to share with you to make this Halloween a DIY celebration.
Square Pumpkin
Spookley the Square Pumpkin is often teased by others because of his square shape. He's befriended by three bats who show him that even though he looks different, he still deserves to be the pick of the patch on Halloween. We decided to add a little craft to go along with it.
Get the directions from Momtrends here.
Paper Bat Craft
This season we're trying to resurrect the bat as a beloved Halloween icon with our new Halloween craft, we think you'll start appreciating these awesome mammals.
Get the instructions on Momtrends here.
Ghost Poop
To inspire you to try them at home, here are all the ingredients and directions. First, we love these simple ghost poop printables. All I used to make them were tic-tacs and my printer. Get the printable download from www.somewhatsimple.com/tic-tac-halloween-labels-free-printable/ here.These treat are perfect to take to a school party or for trick or treat at your house.
2. Crafts: Chalkboard trick or treat recycled box craft

Supplies: chalkboard paint, gold spray paint, chalk, milk carton, candy, glue gun
Directions: spray paint recycled milk carton with gold and one side chalk board. Glue candies on top as a trick.
3. Recycled cup lanterns

Supplies: Recycled cereal cups or drinking cups, battery operated light, ribbon, stickers, gold spray paint, glue gun, scissors.
Directions: Spray cups gold. Cut out opening for candle. Glue top and bottom together. Glue on ribbon, Add on stickers. Place in light.
Halloween Crafts and Treats Round-Up
Snacks:
Mummy cream cheese olives:
Ingredients: Breadsticks, cream cheese, olives
Directions: Spread cream cheese on breadsticks, add olives as fingernails.
Peeled grape eyeball and raisin skewers
Ingredients: Grapes, raisins, toothpicks.
Directions: Skewer raisins on toothpicks, peel back 1/4 of grape skin, insert raisins to create pupil of the monster eyes.
Sharpie Crafts:
And finally for the completely craft challenged, we made these cheese sticks and clementines with the simple use of a Sharpie marker.
Happy Halloween and please let me know if you attempt any of these crafts. We'd love to be tagged in any social media to show off your attempts--both fails and successes.
WANT MORE HALLOWEEN FROM MOMTRENDS?
PIN IT!
Be sure to follow Momtrends on Pinterest and for more spooky inspiration follow our Halloween and Thanksgiving Boards here. 
This is not a sponsored post.