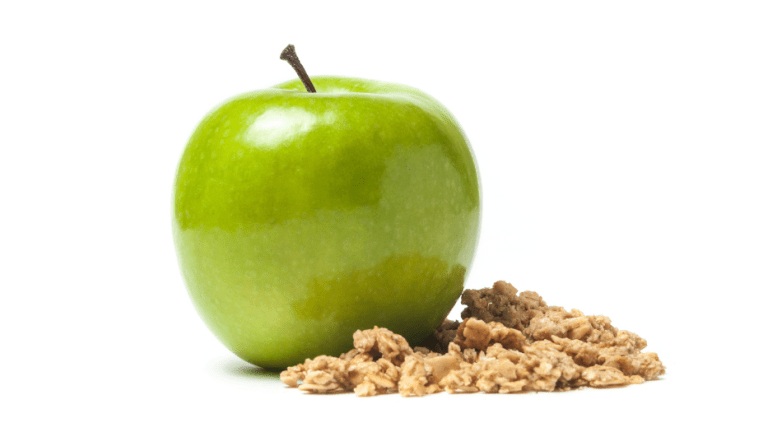 Easy Apple Granola Bites Recipe
These apple snacks are simple to assemble and they're perfect for kiddo kitchen practice.
In my seemingly never ending quest to come up with healthy snacks that my family will actually eat, I decided to try out a new "recipe" using ingredients that I knew, individually, they all liked. Peanut butter, apples and granola are always a hit. So, why not smoosh them together as part of one tasty treat? Smoosh is a word right? Haha!
Related: Apple picking season recipes
You may remember when I posted about one of my new favorite healthy snack choices, a super delish organic granola, not too long ago. Well, I've definitely found many more uses for it beyond the fruit and yogurt pairing I initially shared. Granola is one of those ingredients that can be used a million different ways. Well, maybe not a million, but you get the picture. And with all the variations you can find it in from apple to chocolate banana, you're sure to find one that your family loves.
Easy Apple Granola Bites Recipe
For this easy kids' snack, I went the simple route again and simply combined sliced Granny Smith apples, organic peanut butter and my beloved organic granola. The tartness of the apples and the nuttiness from the peanut butter added extra fun elements to the already tasty granola.
Plus, these snacks are so simple to assemble, they're perfect for kiddo kitchen practice. Even my two year old can slather some peanut butter on an apple with a kid safe knife and sprinkle some granola on top. I'm sure you've found, as I have, that the more involved kids are with making their food, the more excited they get about eating it!
So, what healthy snacks have you been whipping up for your little ones lately?
MORE FALL RECIPES FROM MOMTRENDS
PIN IT!
Use Pinterest to save your favorite recipes ideas. Be sure to follow our Apples board here.
Momtrends was not paid for this post.
For even more Momtrends, follow us on Facebook, Twitter, Pinterest and Instagram