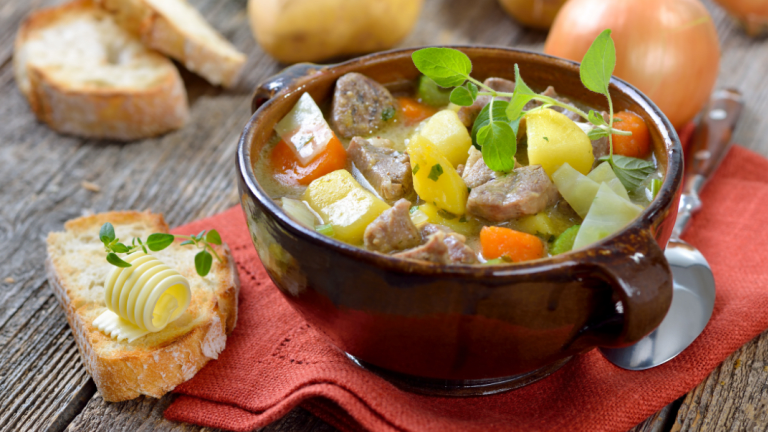 Drunken Winter Stew
Drunken Winter Stew Recipe
With St. Patrick's Day right around the corner we think it appropriate to spice up your cooking with a secret ingredient--beer! We've come up with this delicious drunken winter stew with the key ingredient being BEER!
Craft beers can liven up winter meals without having to rely on spices. Simply add beer to a recipe in lieu of broth, water or wine and you'll change the character of your favorite dish. Beer can enhance flavors, add nuance to your dishes and increase the richness of your cooking. One of our favorite ways to cook with beer is in a hearty stew.
Related: Hearty and delicious St.Paddy's Day meals
Drunken Winter Stew By: Robin Oswald (photos by Kevin Ryan)
This wonderful recipe uses potatoes and cabbage (readily available right now). If you are sticking to an Irish theme, try a stout beer. For a less rich and heavy stew, try a less potent porter beer. There's still plenty of body to the porter, but the beer will be a little less prominent in the recipe.
Drunken Winter Stew Ingredients
3 potatoes, peeled and cubed
1/4 cup chopped onion
1/2 medium head cabbage, sliced
1 (15 ounce) can kidney beans, drained and rinsed
3 cups water
1 (12 fluid ounce) can beer
1 tablespoon prepared Dijon-style mustard
1/4 tablespoon garlic powder
Ground black pepper to taste
Salt to taste
Drunken Winter Stew Directions

1. Bring potatoes, onions, and water to a boil, lower heat to simmer.
2. Add cabbage and mustard. Slowly add about 1/2 the beer (it will foam up a bit). Cover loosely. Let simmer 15 minutes, stirring occasionally.
3. Add the beans, spices, and more/all of the beer to taste. Remove lid, let simmer another 10 minutes or until potatoes are tender. Add water if necessary. Re-spice if needed before serving.
When it comes to cooking with beer, feel free to experiment and sip while you cook. By tasting the beer, you might get a better understanding of the flavors. Another key aspect to cooking with beer is to avoid going cheap. The lovely organic kale and cabbage from our produce section deserve better than a watery, light beer. Combining a delicious beer with local vegetables is sure to deliver a memorable and tasty meal this winter.
MORE ST. PATRICK'S DAY FROM MOMTRENDS
PIN IT!
Use Pinterest to save your favorite crafts, menus and parties for St. Patrick's Day here on the Momtrends St. Patrick's Day Board.
Momtrends was not paid for this post.