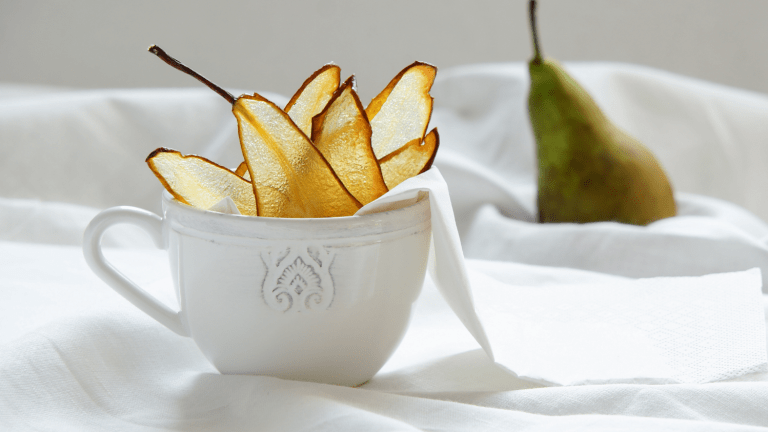 Chocolate Mousse with Pear Chips
Dress up this classic mousse recipe with sweet and crunchy pear chips
With the holidays just around the corner and we're thrilled to share a perfect dessert recipe for your family's celebration. Try this: Chocolate Mousse with Pear Chips. It's a play on a classic recipe dressed up with a little flair. It's a great "make-ahead" dessert that will take the stress out of entertaining.
We got the recipe from Leah Schapira's cookbook, Fresh & Easy Kosher Cooking. Her book features a plethora of easy kosher recipes, ideal for all home cooks, proving that you don't have to Jewish or even kosher to appreciate and enjoy great food easily prepared. The pear chips provide a great sweet taste with the chocolate mousse; we may be trying the pear chips just to have pear chips!
Related: Microwave mug cakes, dessert in 60 seconds
Chocolate Mousse with Pear Chips
From Fresh & Easy Kosher Cooking by Leah Schapira
Chocolate Mousse
Ingredients:
8 eggs, separated
12 oz bittersweet chocolate (not baking)
1 tsp instant coffee granules, dissolved in 3 tbsp boiling water
¼ cup sweet red wine
Directions:
In a mixer, whip the egg whites until stiff peaks form.
Over a double boiler, melt the chocolate with the coffee.
Beat egg yolks, with a fork and quickly add to double boiler, mixing well.
Add the red wine. Remove from heat.
Fold in the egg whites until combined.
Place in individual cups for serving. Refrigerate.
How to Make Pear Chips

Ingredients:
2 firm pears
1 cup sugar
Directions:
Preheat oven to 325°F.
Thinly slice the pears and lightly coat each side with sugar.
Place the pear slices in a single layer on a baking sheet lined with parchment paper. Bake for 15-20
minutes.
Turn the pears over and bake for an additional 15-20 minutes.
Turn off the oven and leave the pears in the oven to cool and dry.
Before serving, garnish mousse with chocolate shavings and caramelized pear chips. And we'll let you in on a little secret...sometimes we BUY the mousse and just add our homemade pear chips to dress it up. They also work great on ice cream. Enjoy!
MORE CHOCOLATE GOODNESS FROM MOMTRENDS
PIN IT!
Use Pinterest to save your favorite baking recipes. Be sure to follow our Sweet Treats board for more inspiration.