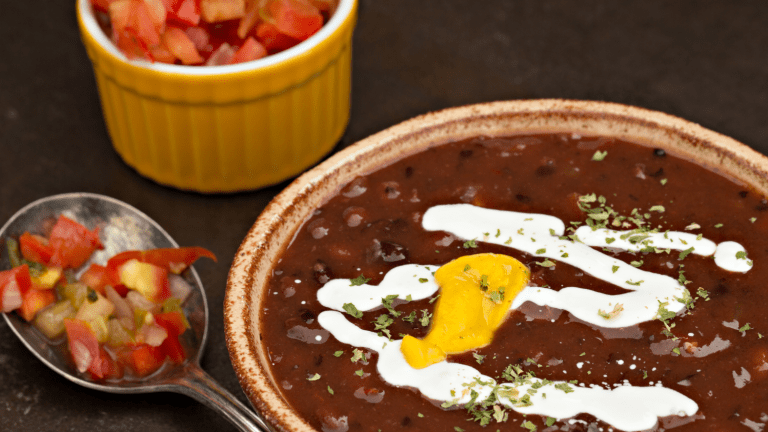 Chipotle Black Bean Soup Recipe
Fast and delicious recipe using Goya canned products.
We are always looking for new recipes to enjoy with the kids. During a recent interview with Goya Executive Chef, Fernando Desa we learned some tips on how to cook some new healthy and inexpensive recipes incorporating Goya as well as an insight into food trends. One of our favorites is this fast and delicious Chiptole Black Bean soup recipe. It's ideal for a midweek meal that's filling, healthy and FAST.
Related: Guacamole recipe and fun facts 
Keeping commonly used long-shelf life canned or dry foods in your kitchen such as rice, beans and pasta can help you pull together a quick meal in no time. Just add fresh ingredients, such as fresh vegetables or proteins, and you can have yourself a tasty, fast and healthy meal.
People are now eating more vegetables and low fat proteins like beans, and are replacing starches and fatty meats that are common in a daily diet. It seems this will be a great year for Latin cuisine.
Chipotle Black Bean Soup Directions
3 cans (15.5 oz. each) GOYA Black Beans, divided
1 chipotle chile, plus 2 tsp. chipotle chile sauce from 1 can (7 oz.) GOYA Chipotle Chiles in Adobo Sauce
2 tbsp. EVOO 
½ medium yellow onion, chopped
½ red bell pepper, finely chopped
½ green bell pepper, finely chopped
2 tsp. minced garlic, or 4 cloves garlic, finely chopped
½ tsp. ground cumin 
1 cube chicken bouillon mixed with 2 cups water, or 2 cups chicken broth
½ cup sour cream
1 small tomato, finely chopped
2 tbsp. roughly chopped fresh cilantro
Diced avocados (for topping)
Directions
In bowl of blender, add 1 can black beans, chipotle chile and sauce and 2 cups water. Puree until smooth, about 30 seconds; set aside.
Heat oil in large pot over medium-high heat. Add onions and peppers; cook until soft, about 10 minutes. Add garlic and cumin; cook until fragrant, about 30 seconds more. Add chicken bouillon mixture, reserved black bean puree and remaining black beans; bring mixture to a boil; reduce heat to medium low and cook, stirring occasionally, until soup thickens and flavors come together, about 10 minutes.
Divide soup evenly among serving bowls. Top with a dollop of sour cream. Sprinkle with tomatoes, avocado and cilantro.
MORE CINCO DE MAYO INSPIRATION FROM MOMTRENDS
PIN IT!
Use Pinterest to save your favorite cocktail recipes. Be sure to follow our Everyday Entertaining board here.
Momtrends was not paid for this post