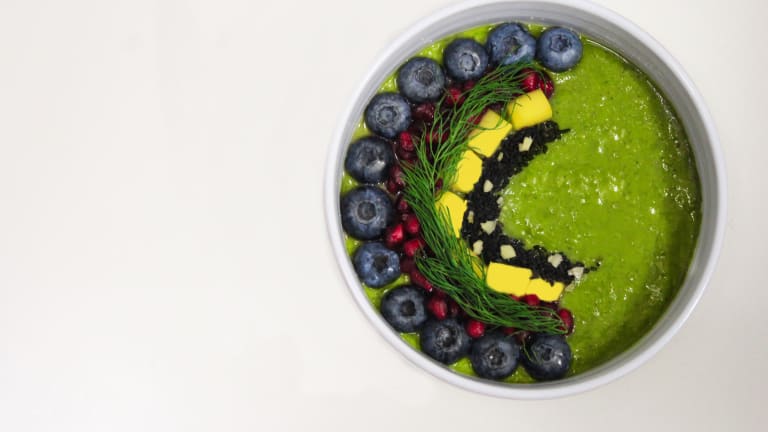 With National Spinach Day being tomorrow, I thought now would be a great time to share my favorite way to use spinach...in a green smoothie recipe. If you had asked me a few years ago if I thought I would ever love drinking my spinach, I would have said no way! But, in fact, I have found that there is no shortage of delicious ways to enjoy spinach in smoothie form. Before I started making them, I had no idea how well they went with some of my go to smoothie ingredients like Greek yogurt, bananas, berries, mango...I could go on and on!
Related: Brain Boosting Purple Smoothie Recipe 
Not only do green smoothies taste great, but they make for an easy way to sneak in a healthy start to your day. My mornings are jam packed. Getting the kids ready for school, dropping them off, then racing to my desk means I don't always have time to fix myself an involved hot breakfast. Green smoothie recipes save the day! I know you fellow mamas can relate...We feed everyone but ourselves right? No more!
So, just in case you love green smoothies as much as I do or you need a little convincing to try them out, I've rounded up some oh so tasty green smoothie recipes that look so good, I can't believe anyone would turn them down!
Three Can't Miss Delicious Green Smoothie Recipes
1. Mom Endeavors: She had me at pineapple mango...I mean how GOOD does that sound? I can see myself sipping on this while lounging on a tropical beach. Sigh.
2. Dear Crissy: I'm loving the new smoothie bowl trend and I haven't seen one look more delicious than this Kale Apple Green Smoothie Bowl...You could easily sub in spinach!
3. BonBon Rose Girls: It doesn't get much easier than this version...A few simple ingredients like spinach, banana and almond help give you have this beautiful green concoction!
And for more ways to enjoy vegetables in smoothies, check out our 6 veggies to sneak into your kids' smoothies piece! 
MORE FOOD FEATURES FOR YOUR FAMILY FROM MOMTRENDS
PIN IT!
Use Pinterest to save your favorite recipes. Be sure to follow our Kid Food Pinterest board here.
Momtrends was not paid for this post.