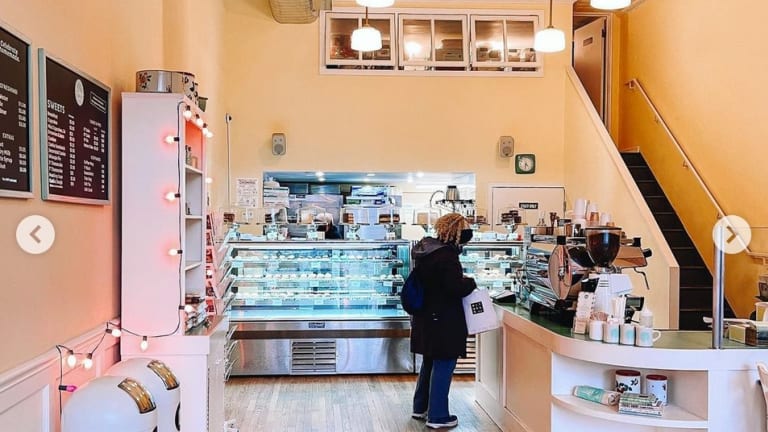 Publish date:
Billy's Bakery: Best Cupcakes in NYC?
Each day at Billy's, everything is still made from scratch and that's why locals and tourists love this place.
Each day at Billy's, everything is still made from scratch and that's why locals and tourists love this place.
Cupcakes and kids; a match made in heaven. For families visiting NYC, we suggest a trip to Billy's Bakery. This bake shop (there are three in NYC) specializes in perfectly-sized and exquisitely-frosted cupcakes. Stroll inside and smell the sweet scent of flour, sugar and eggs baking to perfection.
Related: Family visit to Hudson Yards
One most visits, you'll spot one of the bakers icing and sprinkling a new batch--a real treat for the pint-sized bakers in your family.
Want to know where to take the kids in NYC? 
Billy's Bakery NYC

5 Pretty Ways To Organize Your Jewelry
I admit - I'm guilt. Despite my best efforts, my "jewelry drawer" has become a tangled mess of necklaces, bracelets and earrings. This cluttered collection not only makes it hard to see what I have, but difficult to untangle the pieces I do want to wear! This summer, I'm ...read more
This Year's Coolest Jumbo Pool Floats
Pool season is almost here! I can't wait to relax, read a book, and sip a cocktail while lazily drifting in an oversized float. (Just kidding, I have two toddlers--but a swim mama can dream, right?). If you've got a staycation planned, check out this year's coolest jumbo pool ...read more
Crystal Clear and Pristine: Pool-Cleaning Tips
Tropical Storm Isaiah gave us quite the midsummer surprise here in the suburbs of New York City. We just got our power back on after a whole week of darkness! With trees down, debris everywhere, and lots of uncertainty, one thing we forgot to check on: our above ground Intex ...read more
Chelsea at 184 9th Avenue (between 21st & 22nd Streets). Chelsea: 212.647.9956
Tribeca at 75 Franklin Street (between Broadway & Church Streets). Tribeca: 212.647.9958
Nolita at 268 Elizabeth Street (between Houston & Prince). Nolita: 212.219.9956
For more information visit www.billysbakerynyc.com
MORE NYC CENTRIC THINGS TO DO
Favorite Museums: www.momtrends.com/travel/favorite-museums-in-new-york-city-for-kids
Best Broadway Shows: www.momtrends.com/travel/broadway-for-kids-and-family-shows-in-nyc
Heading to NYC for the first time? I love this what-to-do list from Jessica Turner at MomCreative.
PIN IT!
Use Pinterest to save your favorite NYC outings. Be sure to follow our New York City board here.