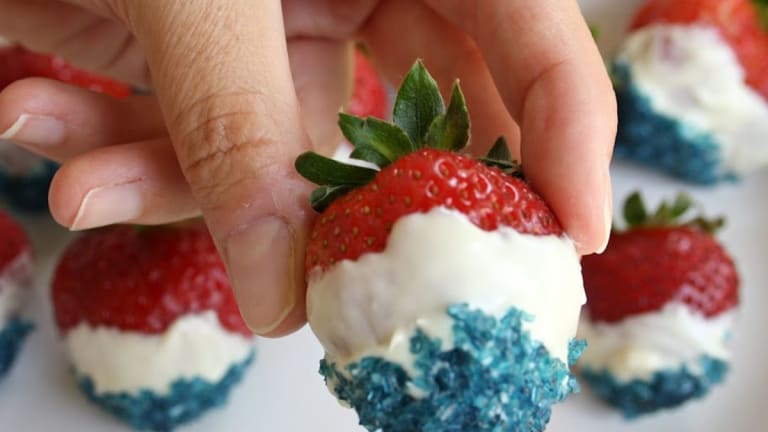 The Best Simple Strawberry Recipes
From dessert to drinks and even appetizers, we've got you covered!
Being that it's National Strawberry Month and strawberry season is in full effect, we thought it would be a great time to share some of our favorite strawberry recipes. I, for one, am willing to try strawberry ANYTHING and with so many delicious recipes to choose from I am going to have a difficult time to settling on one for the weekend. That's probably why I won't. Who says I can't make them all? Haha!
I live in Florida after all. I'm lucky enough to have a bevy of beautiful berries right at my fingertips! I just have to make sure that they last long enough for me to make something with them. I have a bunch of little berry bandits in the house...
Strawberry Fruit Infused Water
Sip your way to better health. Strawberries are rich in antioxidants, which can help to flush toxins, fight inflammation, and boost the immune system.
Get the Fruit Infused Water recipe here on Momtrends
Cheese Stuffed Strawberries
First up we have the easiest "recipe" of them all. These stuffed strawberries are the perfect appetizer for your weekend celebrations. And you can throw them together in NO time which makes them all the more appealing!
Get the Cheese Stuffed Strawberries recipe on Momtrends here.
Strawberry Pretzel Parfait
This is such a fun take on a parfait. The saltiness from the pretzel combined with the sweetness of the strawberries and the creaminess of the cream has this girl drooling! Ditch those typical desserts and try something different!
Get the Strawberry Pretzel Parfait recipe from Jo-Lynne Shane here.
Strawberry Basil Lemonade
I can't think of a more refreshing summer drink than a tall cold glass of this strawberry goodness. Serve it at your next ladies luncheon and your guests will be so much more impressed than if you served plain old lemonade! Plus, I wouldn't say not to adding a little vodka to it...Would you?
Get the Strawberry Basil Lemonade recipe from Take Time for Style here.
Chocolate Covered Strawberries
I'm loving the idea of these red, white and blue strawberries. You could take this idea and really run with it...Just think of all the different colored sprinkles you could dip chocolate covered strawberries in! You could customize them for all your parties!
Get the Chocolate Covered Strawberries recipe from 5 Minutes for Mom here.
So, which of these sweet strawberry recipes are you going to tackle?! Or you going to make like me and have a strawberry smorgasbord?
MORE OF OUR FAVORITE STRAWBERRY RECIPES
PIN IT!
Use Pinterest to save your favorite recipes. Be sure to follow our Kid Food Pinterest board here.
Momtrends was not paid for this post.