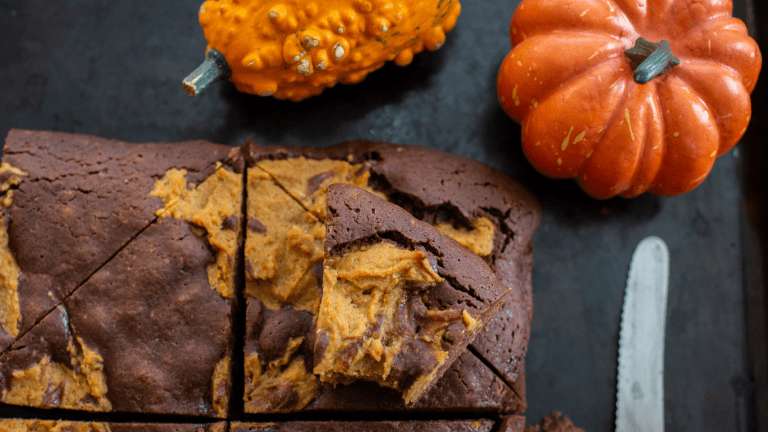 The Best Pumpkin Recipes for Fall
From pancakes, to coffee and even a boozy shake, there's a recipe for everyone!
I just love how magical summer is...I really do! The lazy days...the barbecues...the getaways. It's tough to beat summer's charm right? That being said, it still can't quite equal fall in my book. I'm an Autumn girl through and through...and pumpkins have a lot to do with my love affair with the season. I know it's a tad bit cliché, but I'm totally the girl who runs to Starbucks the second I hear my beloved Pumpkin Spice Latte is out. Can someone say pumpkin recipes? Mmmmm!
Related: 10 Ways to get your pumpkin spice fix
And my pumpkin obsession doesn't end with coffee cravings...Whether I'm headed to the pumpkin patch with my kids or putting together my fall tablescape, pumpkins are never far from my fall thoughts. And since I'm willing to bet I'm not the only pumpkin' lovin' girl out there, I decided to round up some of my favorite pumpkin recipes for fall just for you!
Pumpkin Latte
If you'd rather tackle the PSL at home, we have you covered with this super easy recipe! Don't be fooled by the word "recipe." Haha! It literally take just a few minutes to whip up your own pumpkin latte right from the comfort of your own kitchen.
Get the Pumpkin Latte recipe here.
Pumpkin Bourbon Milkshake.
This is my kinda boozy shake. In fact, the girls over at Take Time for Style have a slew of delicious boozy shakes recipes, including their strawberry rum milkshake, but this one just might be my favorite! The flavors blend so beautifully.
Get the Pumpkin Bourbon Milkshake recipe here.
Pumpkin Brownies
Jazz up an ordinary brownie mix with canned pumpkin and you won't believe how much more special they taste. This baking hack is a super simple way to add some pizzaz to your brownies this fall and they would be great to serve at your next game day function!
Get our favorite recipe for pumpkin Brownies.
Pumpkin Oatmeal Pancakes
And don't forget breakfast. Go full on fall with your flavors for your first meal of the day. Mom Endeavors has the right idea with her pumpkin oatmeal pancakes recipe! I like pumpkin in my pancakes even more than blueberries...and that's saying a lot!
So, as we move toward fall, I hope you'll enjoy trying out these yummy pumpkin recipes. Your loved ones will thank you...Trust me!
Get a terrific Pumpkin Oatmeal Pancake recipe here
MORE FALL RECIPES AND DRINKS FROM MOMTRENDS
PIN IT!
Be sure to follow Momtrends on Pinterest and for more spooky inspiration follow our Halloween and Thanksgiving Boards here.