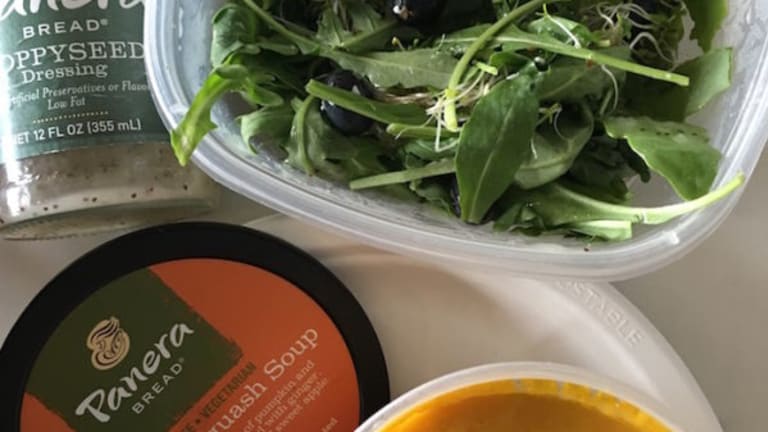 Best Office Lunch Ever
Getting a great Panera lunch to refuel your work day.
When Panera first started popping up in New York City, I was beyond thrilled. My favorite suburban lunch spot was now accessible to me in my beloved city. Whoo hoo! Now I can eat Panera pretty much whenever I want with the new line of take-home soups, pastas, breads, salad dressings, and coffee.
Related: Healthy snacking ideas moms
Best Office Lunch Ever
Because I go into the office each day, I like to bring my lunch with me. Not only does it keep me from eating junk food, but it definitely saves me some money, too. I can bring my salad and enjoy a delicious dressing like the Poppyseed. It's creamy and fruity without being too sweet or heavy. It's nice to not stress about bringing a dressing with me each day---these refrigerated dressings are free of artificial flavors, sweetness, preservatives and colors. Even better!
Just because it's summer doesn't mean I don't love soup. The Autumn Squash soup is a tasty blend of pumpkin and butternut squash with a little bit of ginger and apple. It's thick with chunks of squash throughout. I love having it with my salad. And no laptop lunch is complete without a cup of coffee. The Panera Organic French Roast blend is the perfect pick me up.
For more information about where to get your Panera fix, visit www.paneraathome.com
MORE FOOD IDEAS FROM MOMTRENDS
PIN IT!
Use Pinterest to plan your meals and save new recipes. Be sure to to follow our Recipes to Inspire board here.
Momtrends was not paid for this post