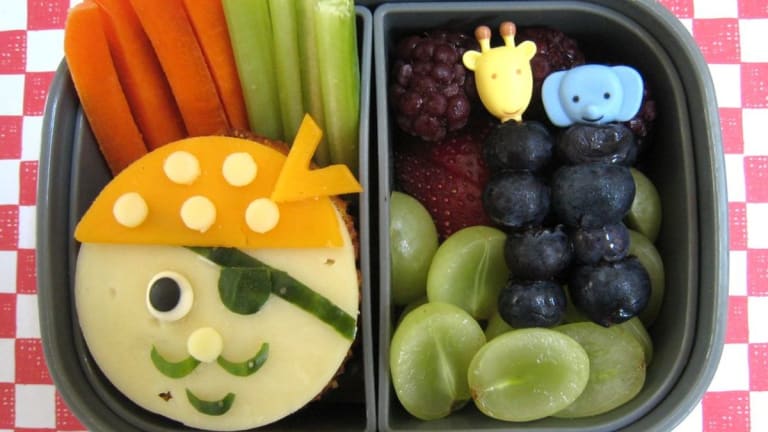 Bento Box Lunch Ideas
Bento Box Lunch Ideas: Lunch at Our House solved the dilemma by creating countless fun and nutritious meals using a bento box.
Sigh. Packing lunches on day 145 of school can be rough. We've all stared at the loaf of bread and jar of peanut butter and wondered, "Again? Really?" Shannon of What's for Lunch at Our House solved the dilemma by creating countless fun and nutritious meals using a bento box. Then, she started a blog to share her inspiration with the rest of us.
Related: How to create the cutest bento lunches ever
Shannon wanted to find school lunches for her daughter that she could eat in 20 minutes and knowing that her daughter was a slow eater, she needed small meals with lots of variety so she would finish her lunch before the bell rang. It worked and her blog really took off. Shannon's bento box lunches are pretty basic and very attainable, but with a few creative touches to make her child feel special and love lunch time!
The above Pirate Bento looks complicated, but isn't (for even the Bento novice like myself). The pirate is a Taco Muffin which is made from ground beef, taco seasoning and corn muffin mix. Yummy.
The Lunchable Style Bento Box is something we all sort of already do, but Shannon takes it up a notch. With rolled up ham (secured with cute tooth picks), cheddar cheese cubes, Ritz crackers, Quaker Multigrain Blueberry Pomegranate Crisps, vanilla yogurt with sprinkles and strawberries. Packed in Easy Lunchboxes.
Feast your eyes on Spaghetti Cupcakes with whole grain pasta. She added fresh fruit, cucumbers and carrots and blueberry pomegranate crisps. I have to try this! (Get the recipe here.)
The Star Wars Bento is a brilliant idea for all those Star Wars fans out there. This is a roast beef and cheese sandwich on pita bread with a Yoda made from cheddar cheese and cut with a Star Wars cookie cutter from Williams & Sonoma.
She also does sandwiches with cheese shaped animals, like this adorable Elephant Bento. Wondering how she made the eye? It's candy. So sweet!
Get a new idea for a bento box lunch almost daily at What's for Lunch at our House.
MORE FOOD IDEAS FROM MOMTRENDS
Need more meal inspo for your family?
PIN IT!
Use Pinterest to save your favorite recipes. Be sure to follow our Healthy Eats board
Momtrends was not paid for this post.