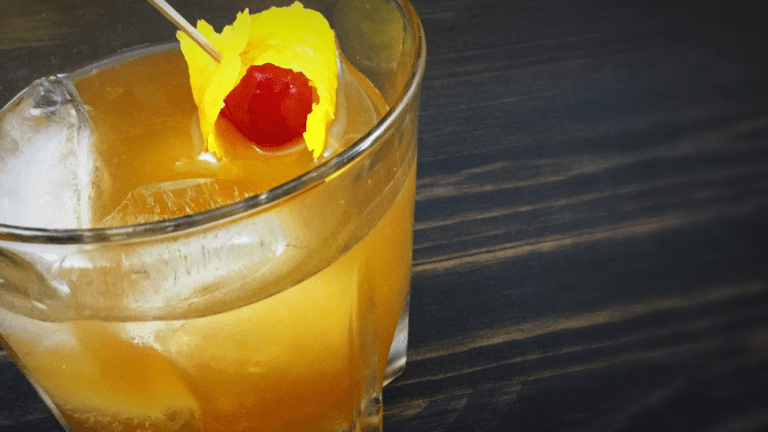 I'm having a bit of an identity crisis right now...Part of me wants fall to get here already, while the other part of me doesn't really want to let go of summer. Luckily, fall is almost here, but I still have a few weeks left to revel in the magic of summertime. Now even though I'm still rockin' summer outfits and enjoying the balmy weather, that doesn't mean I'm not already indulging in fall inspired recipes. I'm bonkers for anything apple related...especially apple flavored cocktails!
Related: Boozy salted caramel apple cocktail
The Perfect Drink for Fall Nights
Did you know that you can use apple cider to make a slew of delicious apple flavored drinks? You can pair it with everything from sparkling wine to rum and even bourbon...which brings me to today's featured cocktail. I'm not much of a bourbon drinker myself, but my hubs enjoys a nip every now and again and it's a great thing to have on hand for fall get togethers. So, I do usually have a bottle in my liquor cabinet.

Save Money at a Ski Swap
Are the slopes in your future? If you want to save money on ski gear, consider a ski swap. A swap is a great way to buy and sell used equipment. Most swaps consist of a variety of gear, from brand new to used skis and snowboards to skis; from poles to boots to bindings and ...read more
The Ten Best Wooden Play Kitchens For Kids
Cooking is a timeless fascination for children. This type of play goes beyond gender and teaches kids loads of life skills along the way. An investment in a play kitchen is money well spent, as it can provide hours of entertainment. We've rounded up the ten best wooden play ...read more
New Victory Announces a New Season of Shows
We know you're busy planning picnics and summer outings, but we wanted to let you know that The New Victory just announced their new season and it looks fantastic. We thought you'd like a sneak peek of what's in store! Each year the New Vic theater brings culture to tourists and ...read more
Now I may not be a bourbon connoisseur, but I've yet to meet a glass of apple cider that I didn't like. Haha! And on that note...I thought the two might be mighty tasty together. Guess what? I wasn't wrong! I do believe I just found a bourbon drink I can get behind! Score.
Apple Cider Bourbon Cocktail Directions
Simply combine 4-6 oz. of apple cider with a shot of bourbon.
Shake with ice, strain and enjoy! 
A dash of cinnamon and an apple garnish make for great finishing touches. 
MORE FALL RECIPES FROM MOMTRENDS
PIN IT!
Use Pinterest to save your favorite recipes ideas. Be sure to follow our Apples board here.