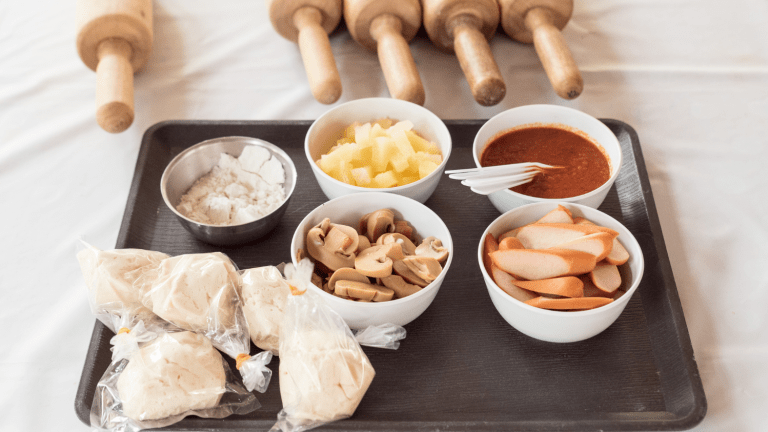 6 Reasons to Make DIY Pizza With Your Kids
Celebrate National Pizza Month with a fun night in with the kids making pizza.
It's National Pizza Month! An easy one to celebrate in our house. While takeout pizza might be a staple in your house on Friday nights or after a late sports practice, making pizza at home with your kids has lots of benefits. Here are six reasons you should plan a DIY pizza night now.
6 Reasons to Make DIY Pizza With Your Kids
It's a great way to spend side-by-side conversation time. While many kids may be resistant to eye-to-eye conversations about their day, studies have found that engaging in discussion while doing a side-by-side activity can make kids more likely to share.
It can encourage kids to try new toppings. Kids are always wiling to try new things when they play a role in making them. Plus, when kids get to put the topping on themselves, it's less intimidating to try a few bell peppers or olives on just one of their slices. Set a challenge for every family member to try one new topping.
It can be as easy - or hard - as you want. If you have the time, making your own dough can be a fun way to get your hands dirty and talk with kids about mixing, measuring, and how dough rises. But you can also pick up some pre-made dough from your local supermarket or take-n-bake pizza place like I did. $2 for pre-made, pre-rolled out pizza dough? I'm sold.
It lets you have conversations about healthy eating. Ok, so pizza isn't exactly a health food, but any time you are cooking with your kids, it provides opportunities to talk about healthy eating, portion size and eating a balanced diet.
It's a great way to clean out the fridge. Half a bell pepper left in your veggie drawer? Pre-chopped onion that needs a home? Last night's chicken to use up? DIY pizza is a great way to make sure leftovers don't go to waste.
It's fun! Slopping on sauce. Sprinkling cheese. Tossing on toppings. What's not to love! If you are brave enough (and really want to have a blast with the kids), try tossing your own dough! (Just make sure you have some back-up. You know, just in case.) Check out this pizza throwing how-to video.

Cooking with kids isn't always easy (or clean or fast), but it's most often a worthwhile adventure.
MORE STAY-IN IDEAS FROM MOMTRENDS
PIN IT!
Looking for more food ideas? Check out the Momtrends Recipe Board on Pinterest!
Momtrends was not paid for this post.