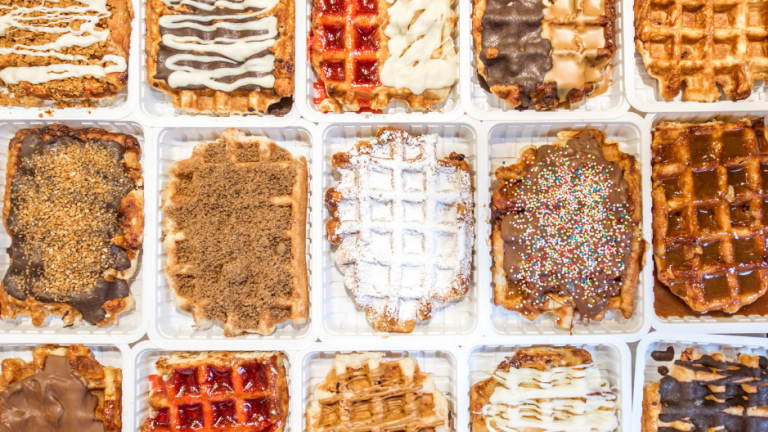 5 Things to "Waffle"—Besides Waffles
Happy Waffle Iron Day! If you've only every made waffles in your waffle iron, you are missing out. There is so much more you can waffle!
Happy Waffle Iron Day! You ARE celebrating, right? If you're old-school like me, you've probably only ever made waffles in your waffle iron, but oh, OH there is so much more you can waffle!
Have you hopped on this trend yet? There are even whole cookbooks and websites devoted to answering the question of the day: Will It Waffle? Cooking say, brownies or grilled cheese in your waffle iron is a good idea for a number of reasons. First, it takes something familiar, maybe something you even make all the time, and gives it a new spin. Second, figuring out what "waffles" (yes, it's a verb) can be a fun summer activity to get the kids involved with. Give them a box mix of brownies and let them develop their skills of measuring and mixing and of course, seeing if it will waffle! Here are 5 recipes to get you started.
First time moving beyond waffles in your waffle iron? Start off with these easy transitions.
Our Favorite Waffle Irons
Before we start with the recipes, here are a few of our favorite waffle makers.
Classic Round Waffle Maker (Cuisinart, $30) | Belgian Style Waffle Maker (Hamilton Beach, $35) | Five of Hearts Waffle Maker (Chef's Choice, $70) note: these are all Amazon affiliate links.
Cinnamon Roll Waffles 
This one takes no more effort than buying one of those tubes of ready-to-bake cinnamon rolls an plopping a few of them onto a heated waffle iron. Don't forget the icing! Cinnamon-y, gooey deliciousness! Get the recipe via Little Bit Funky.
Waffle Brownie Sundaes 
This recipe from The Food Network only takes 6 ingredients that you probably already have on hand. But no shame if you just pick up a box mix too. Get the recipe via Food Network.
Hash Brown Waffles 
I do love crispy warm hash browns on a weekend breakfast, but I don't love standing over a hot pan of oil trying to flip the sucker. Hash brown waffles to the rescue! You can make this easy breakfast side with fresh grated Russet potatoes or by even smashing any frozen tater tot type thing into your grill. Done and done.
Get the recipe via Sheri Silver
Grilled Cheese 
There's not a wrong way to enjoy a grilled cheese, but making one in the waffle maker will certainly put a fun spin on this classic. You can keep it simple like the recipe below or get all fancy by adding in extras like strawberry jam or tomatoes.
Get the recipe via Fifteen Spatulas
Ready for something more advanced? How about, oh I don't know, Caribbean Shrimp Stuffed Waffle Pops and Mango Cilantro Dip? Shut the front door. This recipe takes your waffling game to a whole. new. level. And you can be pretty positive that no one else will show up with this same appetizer. Get the recipe via Snappy Gourmet.
Happy waffling!
MORE BREAKFAST IDEAS FROM MOMTRENDS
PIN IT!
Use Pinterest to save your favorite recipes. Be sure to follow our Kid Food Pinterest board here.
Momtrends was not paid for this post.