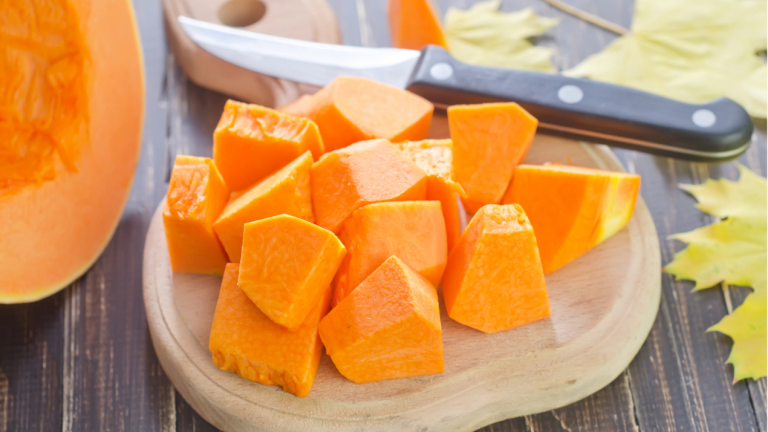 5 Healthy Uses for Pumpkin
Pumpkins are extremely healthy for your body, inside and out and can be used in cooking and in your beauty routine.
When you think of fall, you naturally think of pumpkins, right? Sure, they are fun to carve and make a festive decoration, but pumpkins are also extremely healthy for your body, inside and out. Rethink this orange fruit (yes, fruit) and consider these five healthy uses for pumpkin.
Related: 10 Ways to get your pumpkin spice fix
Packed with fiber, potassium, and Vitamin C, pumpkin can be a great addition to your diet to keep you healthy this season. Here are five good-for-you pumpkin recipes you can weave into your lifestyle today.
Pumpkin Pancakes
First of all, we know how important breakfast is when creating a healthy lifestyle. But let's face it: sometimes breakfast options can get a bit stale with a lack of variety. I was inspired to whip up a tasty fall breakfast with pumpkin pancakes. Not only did my pancakes end up being delicious, they were so simple to make! Here is the simple recipe:
1 cup of all natural pancake mix
2 Tablespoons of organic pumpkin puree (Trader Joe's is a great option)
½ a cup of unsweetened almond milk
1 teaspoon of chia seeds (optional)
Whisk thoroughly and start cooking!
Pumpkin Smoothie
Amy Gorin, MS, RDN, and owner of Amy Gorin Nutrition in the New York City area loves to blend a pumpkin smoothie for a healthy fix. Gorin says "Pumpkin is a delicious, nutritious vegetable! One cup of pumpkin puree is an excellent source of fiber and vitamin A. And you get so many other vitamins and minerals, including potassium and vitamin C. I like to whip up a pumpkin pie smoothie, and pumpkin puree makes a great addition to French toast batter, too."
Salad Reboot
Pumpkin in your salad? Why not! Making healthy foods more interesting is one way to stay on track and not be tempted by less nutritious options.
Try this easy recipe below for a Roasted Pumpkin Salad:
Combine lemon juice, extra virgin olive oil, and pure honey in a small mixing bowl
Whisk together until well combined
Season with salt and pepper
Place the pumpkin (roasted), spinach and pine nuts in a large bowl
Drizzle with the dressing and gently toss until just combined
Dessert Option
Finally, everyone's favorite, dessert! Okay, pumpkin pie is a given, but have you thought of pumpkin cookies or pumpkin chia seed pudding?! Try giving your dessert options this season a healthy reboot. Here is a perfect example: Crustless Pumpkin Pie with a healthy whip on top!
Face Mask
Did you know that pumpkin is packed with fruit enzymes and alpha hydroxy acids (AHAs), this helps increase cell turnover. In addition, it helps to brighten and smooth the skin. Why not [trick or] treat yourself to a pumpkin mask weekly! Click here to see my favorite DIY pumpkin face mask.
MORE FALL RECIPES AND DRINKS FROM MOMTRENDS
PIN IT!
Be sure to follow Momtrends on Pinterest and for more spooky inspiration follow our Halloween and Thanksgiving Boards here. 
This is not a sponsored post.