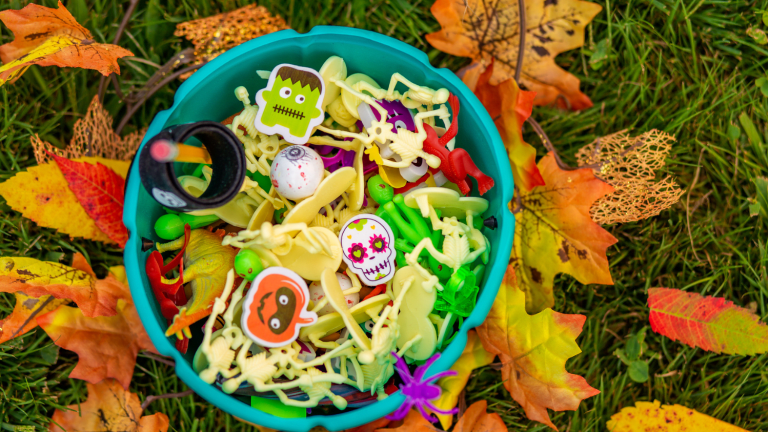 10 Non-Candy Halloween Treats To Give Out
This Halloween, consider skipping the sweets and pass out these fun, non-candy options instead.
I'll be honest: I'm no fan of candy. It just doesn't do it for my sweet tooth and its mystery-ingredients, cavity-causing ability puts it on my naughty list. So the thought of spending money on candy to pass out to the neighborhood kids for Halloween doesn't sit well with me. Luckily, there are a lot of non-candy options to consider instead - and no, you don't have the be the house that hands out raisin boxes. This Halloween, consider skipping the sweets and pass out these fun, non-candy options instead.
Despite my dislike of candy, I admit that I don't want to be "that" house, either - you know, the one handing out carrots or tangerines. So if you're going to skip out on candy, choose something that is cool, functional or fun like one of these 10 kid-approved, non-candy ideas. Order them now so you get them in time!
10 Non-Candy Halloween Treats To Give Out
Glowsticks - Pick up packs of these on the cheap at your local dollar store or plan ahead and order in bulk from Amazon (300 for $22!). Glowsticks are fun for all ages and practical for nightttime trick-or-treating (they'll glow in your child's bucket making it easy to track them down the street!)
Temporary Tattoos - Skip the cheesy Halloween ones (plus who wants to put on a pumpkin tattoo the day after Halloween?) and instead opt for popular characters like these Minion ones or this collection of butterflies and dinosaurs.
Slap bracelets - We hand these out for reading prizes at my kids' school and I'm amazed at how popular they are. This pack is a bit more girly, but I bet boys would dig this mixed pack which includes Angry Birds.
Punch Balloons - My kids LOVE these things! Blow them up and punch away. At only $12 for 50 balloons, this is a non-sweet treat won't cause cavities and will provide hours of fun.
Fake mustaches - Boys, girls, toddlers to teens - it seems like everyone gets a kick out of a fake mustache!
Bouncy Balls - Again, skip the Halloween pack and just choose a color or style that will be fun any time of year. I like this basic variety pack or these fun glow-in-the-dark ones.
Whistles - Parents may groan when the kids break these out, but secretly they'll be glad that it wasn't candy. I love these lip whistles or mustache ones.
Mini Mazes - We've gotten a few of these over the years at birthday parties and my kids will still pick them up and spend a few quiet minutes trying to solve them. I even stash them in my car and purse for those unexpected extra minutes at the store or doctor's office.
Vampire teeth - Protect the teeth of the neighborhood kids by handing out these vampire teeth instead. Bonus point for glow-in-the-dark ones or these extra-gross, extra funny fake teeth.
Homemade slime - Add a little DIY fun into your October and have your kids help you whip up a few batches of homemade slime. With just a handful of easy-to-find ingredients you can make this glow-in-the-dark slime, glitter slime, or add some science into your slime and create this heat-sensitive, color-changing slime. [photo cred]

Bonus non-candy ideas for Halloween
Some of these may be better suited for certain ages depending on the average age in your neighborhood, but join me in skipping the cavities and sugar rush and instead offering a bit of non-edible Halloween fun.
MORE HALLOWEEN FUN FROM MOMTRENDS
PIN IT!
Need more ideas on what to do with the kids? Be sure to follow our Activities to Do with the Kids board on Pinterest here.
Momtrends was not paid for this post. This post may contain affiliate links. By clicking and shopping, you help support Momtrends and allow us to keep reporting on trends.
For even more Momtrends, follow us on Facebook, Twitter, YouTube, Pinterest and Instagram!