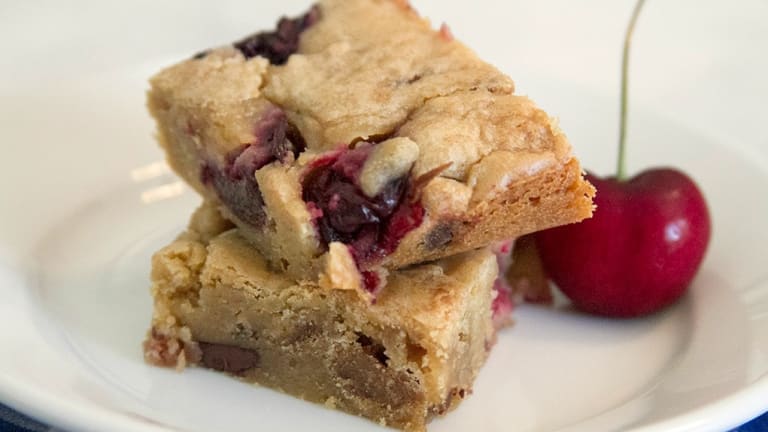 Sweet Dessert Bars for Summer
Does your family deserve a little treat? How about some sweet dessert bars for summer? I know that my family would certainly gobble up some sweet dessert bars. You see, we're an everything in moderation kinda of household. As long as the kids eat a nice, balanced diet and get in some activity each day, if they want a treat every now and again, that's perfectly fine with me. Plus, baking can be such a fun, family friendly activity! My wee ones love to get into the kitchen with me and it's been a great way to kill some time during those summer storms we seem to get daily. If they know they have a treat coming their way at the end of a kitchen sesh, they're more than happy to throw those aprons on. Bwah!
Sweet Dessert Bars to Treat Your Family To
Banana Blondies...What would you say to dessert bars that go best with ice cream and can be served cut up into bars OR piping hot in a skillet? This girl says YES! I'm pretty sure you're all nodding your heads in agreement too. And I can't get enough of the secret ingredient...warm caramel syrup! Y-U-M!
Pink Velvet Cake Bars...My lil' lady welcomes any pink in her life, so pink cake bars would definitely be a hit. This would be a great way to tie a book into your treat time! I think Pinkalicious would be the perfect book to read while noshing on some pretty in pink cake bars...Don't you?!
Chocolate Chip Cherry Bars...Cherries are FINALLY in season and my family simply can't get enough of them. If you tend to buy a large and in charge bag every few days like I do, never fear. You can, of course, snack on them just as they are, which I do daily this time of year, but you can also use them in your baking!
So, who's ready to serve up some sweet dessert bars for summer? I knew you would be! And for more sweet treat inspiration, check out the graham cracker desserts we rounded up! It's ever s'mores lover's dream!
We were not paid for this post.