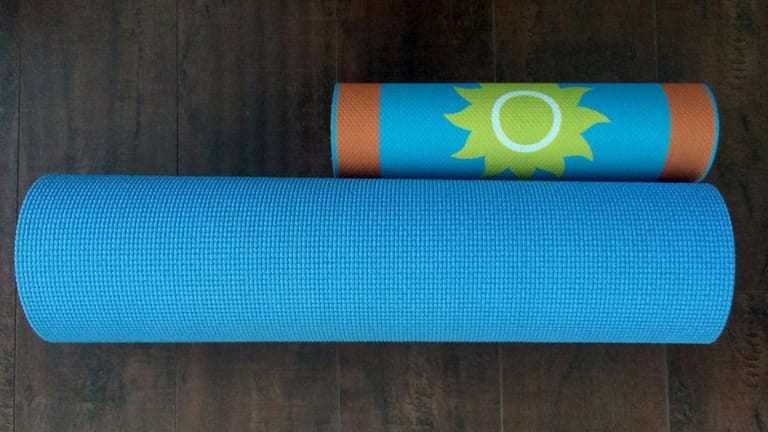 The Little Yoga Mat
Yoga mats sizes to fit your child. These mats are lightweight and easy to carry.
Calling all mini yogis - finally there is a mat for you! The Little Yoga Mat ($25.00), another genius invention by a mom, Jensen Wheeler Wolfe, who I recently had the opportunity to talk with about her newest venture.
Related: Yoga for kids
Chatting with the Founder of The Little Yoga Mat
What was your inspiration for developing The Little Yoga Mat?
I had my lightbulb moment a few months into teaching yoga in my daughter's preschool. There were 20 2-3 year olds in the class and they were all over the place! I decided to cut up all the old mats I had and make small mats for the kids. 1 adult mat = 4 small mats. I thought the individual mats would help contain and focus the kids. It worked. The kids loved them and the teacher thought they were a terrific teaching aid. 
The mats created boundaries - a private space for each child. With the mats, the class vastly improved. I then researched the idea of a pint size mat for little ones and didn't see any other companies making a mat for toddlers so I jumped on it AND added the eco element. Also, my daughter was toting her mat around town. Carrying it proudly on her lap as Dad strolled her to and fro. People asked my husband where they could purchase the cute yoga mat she was carrying.
Why do you think The Little Yoga Mat is important for kids to use for yoga?
Kids love having a mat their size. I thought it was a good idea but have been truly surprised by all the moms who have written to me after purchasing my mats to tell me that their kids take to the mats immediately. The kids do yoga w/their parents on TLYM. They have their own size mat that they can carry, roll out and practice on. TLYM fits their bodies proportionally just like an adult mat fits an adult body. Moms like that it easily fits in a stroller bag or back pack.
What makes The Little Yoga Mat different from a regular yoga mat?
Most mats on the market are made from latex or PVC. Eco-mats cost a bit more because the material is more expensive to make. TLYM is made from a foam based product (therma plastic elastomer) it's recyclable, biodegradable, allergen free and such a great plush texture! I also used 5 colors on the LOTUS mat and 4 on the SUN. I have yet to see another mat with so many colors OR a mat this size.Printing was done with soy-based ink.
What do kids love most about The Little Yoga Mat?
I created the mat for yoga, but customers tell me that their kids also use TLYM for lots of creative play. As a magic carpet, a pancake, beach or picnic mat or roll themselves up in it like a hot dog! An organic preschool in Canada stocked their school with my mats for yoga and nap time.
What is the most rewarding part of being a mom-entrepreneur?
Knowing people like, appreciate and "get" your product. Soooo rewarding! Also, the service piece. I have plans to supply mats to hospitals with pediatric cancer patient wards.I am a cancer survivor myself and giving back in this manor means a great deal to me.
You can purchase The Little Yoga Mat by visiting the website or locating a retailer by you.
Namaste!
MORE KID-CENTRIC FUN FROM MOMTRENDS
PIN IT!
Need more ideas on what to do with the kids? Be sure to follow our Activities to Do with the Kids board on Pinterest here.
Momtrends was not paid for this post. We did receive two mats for review purposes.