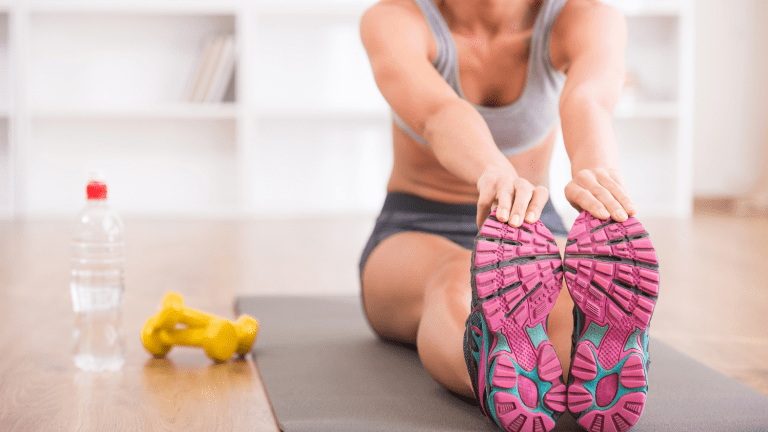 No Gym Required Fitness for Moms
Quick tips to help you get in your workouts and feel great.
"Busy Moms have no excuses to ignore working out." That's what Jennifer Cohen, Body Image and Fitness Expert, says. Jennifer has a new book called No Gym Required and thinks that instead of trying to block out a whole part of your day (not going to happen,) moms need to plan to workout for ten minutes twice a day; once in the morning and once in the evening. We are here to help with: quick fit tips for moms.
The theory is that moms can get the same benefit as a gym workout in a much shorter time. Since we know most moms don't have the extra time on the schedule to travel to and fro to a gym, this concept intrigued us. So we went to the author to get the scoop and some fitness tips. Her advice? Stay interested and change up your excises from day to day.
Great exercises-on-the-go for Moms
Plan to workout for ten minutes twice a day; once in the morning and once in the evening. We are here to help with nine ideas on how to fit in those workouts.
Instead of glancing over a magazine waiting for a doctor's appointment, use that time for isolations. Squeeze one set of muscles - abs, arms, butt, thighs, etc.- hold for 5 seconds, then release. Abs, arms, butt, thighs.
At home or at the office, try curtsey lunges. Take the first leg, and step diagonally behind the other leg and touch your hand to the opposite foot. Repeat with the other leg and hand. Legs, glutes, shoulders, arms.
Waiting in the car? With your hands on the edge of the seat, lift your body up as high as you can and lower slowly without using your legs, keeping your back straight. Arms, abs.
When you take the kids to the park, put your legs on the swing for hip-raises instability of the swing makes you use your core. Lay on the ground, put your heels on top of the swing, and using your abs for stability raise your hips off the ground and lower them back down; the instability of the swing gives you more of a workout. Abs, glutes.
While waiting to pick up your kids from school, had over to the playground. With your back foot on the bottom of the slide for balance and the other foot on the ground, lower yourself with down and raise back up, keeping weight on the front foot. Legs, glutes
At soccer practice, watch the action by jogging back and forth as the team moves along the field. If you're more of a baseball or football family, try bleacher steps. Stand on the bleachers. Keep one leg on the bleachers, and step downward with the other. Stand back on the bleacher, and switch legs. You can also walk up to the top of the bleachers and come back down, repeating a few times. Legs, glutes, cardio.
If you have a new baby, target your arms and back with "Baby Supermans" - hold your baby so you face each other, and lift her into the air, extending your arms. You'll work on your tank-top arms, and your baby will love it. (Note: if your kids are grown, this also works with a small dog) Arms.
Walk instead of driving to do errands close-to-home. Even 30 minutes of walking a day can improve your mood and raise your energy levels. Team up with other moms in the neighborhood, or take some time to yourself on your lunch break at work. Cardio, legs.
Share what you used to love with your kids and be an active family. Did you used to take tennis lessons, dance, or ride your bike every day? Try that activity with your child and they may love it as much as you did.

How to shred the last 5lbs
Always carry a water bottle, and constantly drink water throughout the day BEFORE you feel thirsty - getting your 9 cups of water throughout the day will keep your mood and energy levels up.
Eat smaller meals and keeps a food diary of what you need; spreading out your food intake over the course of the day allows your body to better process what you're eating.
Resist the urge to clean your kids plates. If you snack on what your kids are eating, count that into your daily calorie allowance.
Team up with other moms for encouragement; you're more likely to stick to your plan if your friends are, too
The No Gym Required philosophy is a straight forward, no excuse and achievable approach to taking realistic steps towards a healthier life. Buy on Amazon
MORE FITNESS IDEAS FROM MOMTRENDS
PIN IT!
Use Pinterest to save your favorite ideas from Momtrends. Be sure to follow our Fitness and health board here.
Momtrends was not paid for this post.