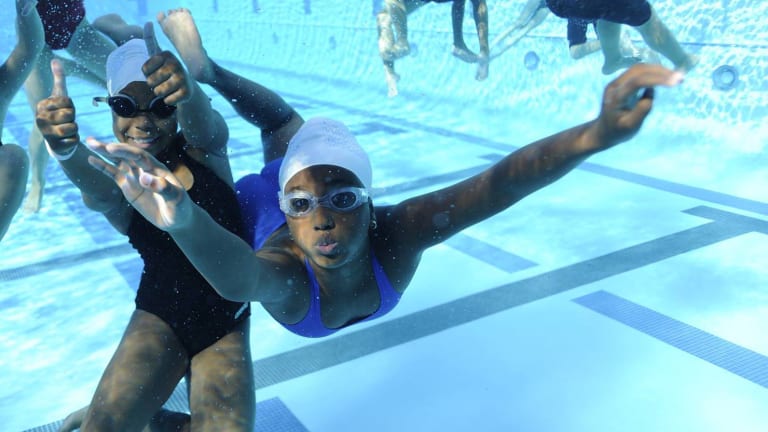 Make this the Summer You Learn to Swim
USA Swimming has online resources to help parents easily find instructors and swim clubs in their area
Jump in! Make this the summer you get your kids into swim team! USA Swimming's research shows that almost 80% of parents, who have put their child through swim lessons, don't consider swimming when thinking about sports for their child. That's just crazy.
As a child who grew up swimming for the Maryland Olde Severna Park Swim Team in the Severn River, I remember loving it all: relay races, collecting ribbons and playing sharks & minnows at the end of practice. Certainly I wasn't in it for the fashion! Witness the awesome nylon swimsuit. Not to be outdone, our Event Manager, Sherri (also from Maryland) went into the archives to share her early days at the pool. As grown-ups, when we talk swim team, all we can remember is the FUN! As a mom of two girls on swim team, I can attest the swimsuits have gotten better and the sport remains FANTASTIC.
Getting to know Dara Torres
We gathered some current and potential swim team moms at Asphalt Green's Battery Park location for a blogging event to talk about getting into the swim of things.
First, we chatted with the moms at the event. In our informal Momtrends poll at the event here's what we found: 10% of moms don't do swim team because they don't know where to go. 40% say it's too expensive and 50% say the family is too busy. Well guess what? It's easier to join a team than you think.
USA Swimming has online resources to help parents easily find instructors and swim clubs in their area. Parents can go to www.usaswimming.org/find-a-team, type in their zip codes and quickly find an instructor or local swim club.
Teams are making it easy to join in with special incentives including free swim team assessments, free swim caps, free trial month and other custom benefits. In addition to the web resources, we have a secret weapon--Dara Torres. We were so lucky to hear Dara's story and learn why she thinks swimming is the #FunnestSport.
Five-time Olympian and swim mom, Dara Torres, spoke to us about how important swim team has been to her. Dara had four older brothers and couldn't wait to join them on her local team. She started as minnow worked up to shark and finally made the team. For Dara, being around friends was key to her love of the sport.
Sure she broke records (the first one at age 15!), but she also had a blast along the way. That's why she's getting her daughter involved in the sport and why Dara is an ambassador for Swim Today.
Dara told our group how swimming kept pulling her back in. Time and time again she "Couldn't get swimming out of my head!" that's why she trained at age 40+ for the most recent Olympic tryouts. Dara is still swimming and loves to share her story of all the great things the sport has given her. Who knows--we might see her in the pool in Brazil (that's my rumor, and completely unverified).
TOP TEN REASONS YOUR CHILD SHOULD JOIN A SWIM TEAM
Need more reasons to sign the kids up for the team? Check out our list.
1. Every child participates – Swimming is inclusive, there are no benchwarmers (nor benches) in swimming.
2. Low risk of injury – Parents want a safe, healthy, lifelong activity for kids especially when the rise of head injuries in contact sports is a big concern for parents.
3. Swimming is a team sport – Most non-swimming parents don't think swimming is a team sport but parents of swimmers associate the sport with teamwork more than any other sport.
4. It's more accessible than people think – More than 60 percent of families live within 10 minutes of a pool.
5. Minimal equipment required. Suit up and go – Only a swimsuit, cap and goggles are necessary to get started.
6. Life skills – Swimming increases self-confidence, self-esteem, time management, goal-setting and social development.
7. Easy to learn – you don't have to be particularly athletic to learn to swim. It's a sport anyone can do.
8. Efficient fitness. Swimming = total body fitness – Swimming burns 650 calories in an hour – more than walking, biking or team sports.
9. It's Sport for life – Once you learn to swim, you can enjoy no matter your age.
10. Swimming is FUN – Parents and kids confirm that swimming is the #FunnestSport
MORE SWIMMING TRENDS
PIN IT!
Use Pinterest to save your summer fun and safety ideas. Be sure to follow our Swim-Team Moms board here.
This was a Momtrends Media sponsored event.