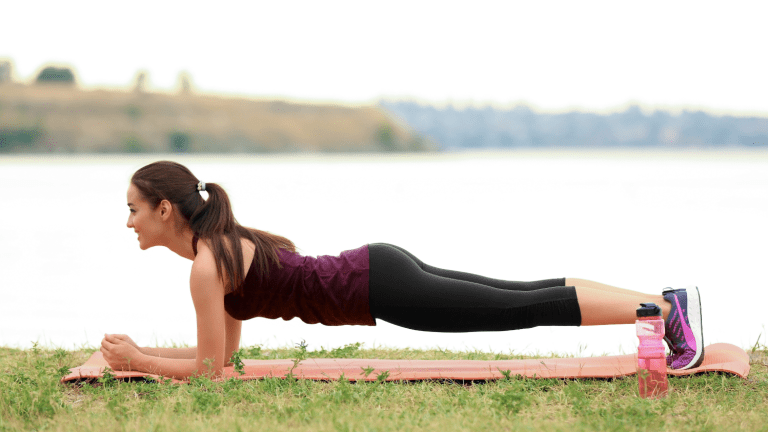 5 minute Plank Workout for Core
A quick at home workout to build a strong core. Step-by-step instructions from a professional personal trainer. Train smart!
This workout is perfect for busy moms who want to get their tummies back in shape. Check with your doctor to make sure that you are ready to start an exercise program. Then jump in and follow along as we show you exercise you can do at home.
Related: Jump Rope Workout
5 minute Plank Video
A strong core is essential. We've got a great 5-minute plank workout to get your abs back in shape. I'm working with Lawson Harris. She's got years of experience and shares proper form with this pilates inspired workout.
I'm working with Lawson Harris. She's got years of experience and shares proper form with this pilates inspired workout.
Why You Need a Personal Trainer
When looking for a personal trainer make sure you have these points on your check list. Treat a personal trainer like you are hiring a babysitter.
Knowledge - Many people are certified personal trainers, but not all can discuss their knowledge professionally, articulately, and intelligently! So make sure that not only are they a certified personal trainer, but that they are able to explain exactly why certain exercises meet your weight loss goals/body conditioning and how it complements the entire body as a whole.
Investment - It's important to look at your trainer as a wise investment. Prices do vary so be sure to keep a personal budget in mind when shopping around. Most trainers will offer an attractive training session package so be sure to negotiate when possible.
Calories - When you are training, it's important that your trainer talk to you about caloric intake! If having a strict nutrition program is important to you, you may want to consider having a P.T. with a nutrition certificate.
Key workouts - Not everyone's bodies are the same. So your trainer has to be able to nail down a workout that is designed specifically for your body. Remember to take it one step at a time.
Body Measurements - Before you begin a fitness program, make sure your personal trainer measures your body fat, weight, circumferences, and blood pressure. Tests should be done to determine postural analysis and muscle imbalances. Progress must be tracked.
Undivided Attention - Make sure that when you are working out, he/she is focused on you and you alone.
Timeliness - Many personal trainers will overbook their schedules which will then cut/interfere with your workouts. So make sure you take note of their organizational and planning skills or else you'll be dealing with a big problem in your hands.
Terrific Personality - If you and your personal trainer don't get along, it will be a terrible marriage. You will be spending a lot of time with this person who is going to be motivating you to workout! So make sure you are comfortable with her/him. If not, interview someone else.
MORE FAMILY FITNESS FROM MOMTRENDS
PIN IT!
Use Pinterest to save your favorite parenting articles. Be sure to follow our Running board here.
This is not a sponsored post.