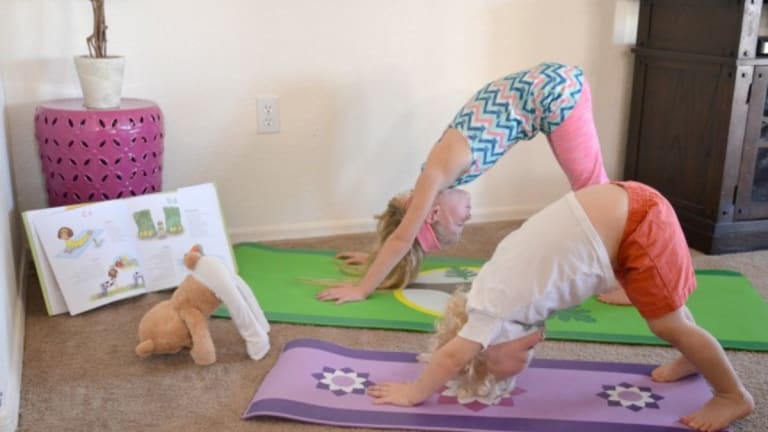 Our Favorite Yoga for Kids Resources
We found great yoga finds for kids, including gear and toys to make practicing with the family more fun.
Today is National Yoga Day. The kids and I have been finding our inner peace this summer by trying some yoga for kids.
Related: Pen pal tips and ideas for kids
Yoga for kids offers many benefits including:
body awareness
increased self esteem
builds concentration
positive self image
promotes relaxation
reduces anger, anxiety and stress
improve self control
non competitive, practice at their own level
Our Favorite Yoga Gear for Kids
When I started really looking for yoga finds for kids, I found there were lots of great products out there to help make yoga more fun for kids.
The Little Yoga Mat offers 2 kid friendly sizes of yoga mats with cute designs. These yoga mats are awesome for kids because they are "just my size". Eco-friendly with non slip, easy to clean surface and they are super lightweight so they are easy for kids to carry.
Yogi are yoga cards for joyful learning. They JUST completed their kickstarter campaign and you can preorder your yoga cards for some yoga fun. We love the illustrations and the kids love playing the yoga games.
One of Ariana's favorite poses is the swan. The Yogi card set includes 40 cards, 20 with illustrations and 20 with illustrations and a cute little rhyme describing the poses.
The cute yoga styles are from Ivivva. My daughter loves their colorful tanks and crops. Then even have a one of a kind yoga mat that is perfect for tweens and older girls. That marble design is just gorgeous, I totally want to snag it for myself!
Meddy Teddy is a cute little bear with a big message. Meddy Teddy is a posable yoga bear who reminds us to be mindful of our bodies and embrace a peaceful mind.
Meddy Teddy helps yoga become more accessible with kids. My kids loved posing Meddy Teddy in all the poses and then posing with him!
Yoga Training Tools 
The ABC's of Yoga for Kids comes as a book or set of 56 yoga cards. While we love the yoga cards then can become scattered easily. The book allows for kids to keep it on their bookshelf and take it down and do the yoga poses themselves.
The ABC's of Yoga comes with a parent/teacher guide book with lots of tips and ideas on how to make yoga games, benefits of yoga and how to make yoga more fun for kids!
Lululemon offers lightweight fabrics in fun coordinating designs and colors. These athletic styles are sweat wicking, breathable and made to move with you so you can focus on your yoga, not your clothes.
1. Ivivva Athletics 2. The Little Yoga Mat 3. Om Marble Ivivva Mat 4. Yogi Yoga Cards 5. Meddy Teddy 6. ABC's of Yoga for Kids
MORE KID-CENTRIC FUN FROM MOMTRENDS
PIN IT!
Need more ideas on what to do with the kids? Be sure to follow our Activities to Do with the Kids board on Pinterest here.
This is not a sponsored post. We did receive samples for review.