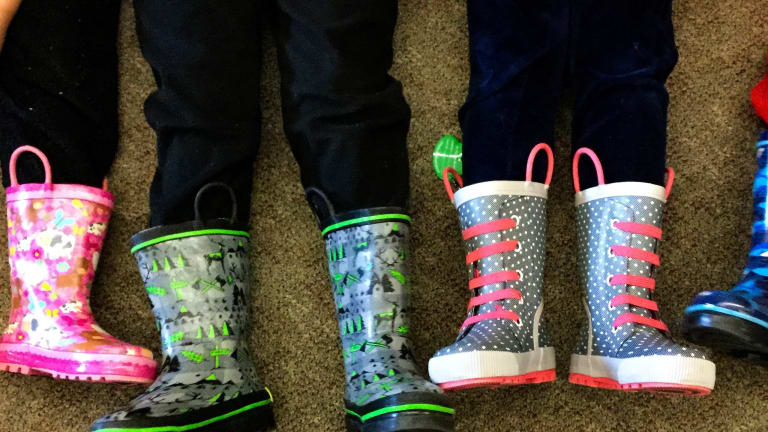 Rainy Day Gear for Kids
We love this rainy day gear for kids from Western Chief Kids. It will keep them warm, protected, and dry on the wettest of days.
The weather has been surprisingly warm (at least, for January) but wet this past week. We all know the old saying,"Rain, Rain, Go Away...Come Back Another Day," and I am not usually one to get all excited when the puddles take over. But since having children, I have to admit it is hard to be crabby when you're splashing around in a muddy puddle. Something magical starts to happen and the pureness of the giggles, smiles, and joy is contagious and perks up even the dreariest of days.
Of course, having the sweetest rain gear ever makes rainy days all the more fun. Western Chief Kids makes an array of rain gear perfectly suited for kids of all ages. I was so happy to find that Western Chief Kids had rain boots in my toddler's size.
Besides being completely stinkin' cute, I love the coverage that the pieces provide. The boots were high enough for puddle jumping, but low enough that my toddler could navigate around with ease. The rain jacket is lightweight and works well if another warm layer is needed underneath. The hood snaps up just right to keep her hair dry and covered in the wind. The ladybug design made her so happy and she often pulls on her rainy day ensemble and parades around. The side handles make pulling up the boots independently a cinch, and the snaps on the jacket are perfect for little hands to manipulate.
Whether you are looking for a cool print, pretty design, or an adorable matching set, Western Chief Kids has got your children's rain gear covered.
Since 1891, Western Chief has been making boots to hold up against tough weather conditions. With a deep heritage in boot making, Western Chief continues to provide boot options for outdoor wear. Footwear offerings range from lovable character rain boots for kids, whimsical and cozy boots for women, durable work boots for men, and more.
Whether you need boots for play, trudging through muddy fields, gardening, navigating city streets, or every day wear - Western Chief has you covered with affordable, functional boots to fit your lifestyle.
Say yes to more rainy days, gear up with Western Chief Kids and get splashin'!
Samples were received for this post, but no payment. All opinions are our own.