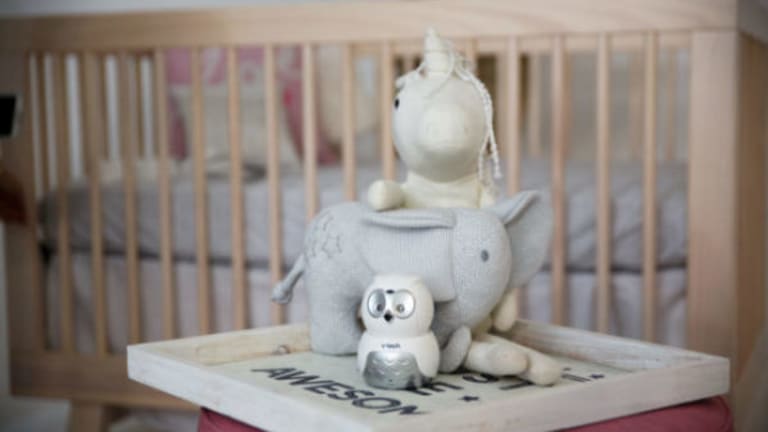 Rest Assured With the VTech Safe and Sound Baby Monitor
The VTech Safe & Sound VM344 Video Baby Monitor helps concerned (and curious!) parents watch and supervise their toddler from up to 1,000 feet away.
"Hey, Baby Sister… You see that camera over there? That's how Mommy and Daddy spy on us at night."
Yes, my four-year-old son actually said this to my one-year-old daughter a few weeks ago. It was hilarious—and my husband and I just looked at each like, "Uh-oh. He's on to us! "
Seriously though, I often wonder what parents did before video baby monitors existed. Relying exclusively on audio alone sounds super risky. My mischievous little guy would probably pretend to snore whilst actually building an intricate escape system. You think I'm kidding, but cue the Mission Impossible music...
There are lots of video monitor options on the market these days though—and it can be hard to distinguish between all the intricate, techie options.
Alas, there is a new camera and monitor set available from VTech that's easy to use and easy on the eyes; functional and fashionable—meaning it discreetly and seamlessly fits into your nursery's distinct aesthetic.
Momtrends recently hosted an intimate NYC event to introduce bloggers to this sleek-and-sweet baby nursery essential from VTech, and we were lucky enough to test it out. We also got teamed up in a styling challenge, where we were able to transform a blank space into a dream nursery. (BTW, so much fun! And, guess what? My group won with our color woodland-themed room!)
The VTech Safe & Sound VM344 Video Baby Monitor with Pan & Tilt Camera helps concerned (and curious!) parents watch and supervise their toddler's silly shenanigans (or is that just my toddler?!) from up to 1,000 feet away. Shaped like an adorable owl, the VM344 camera can pan, tilt, zoom, and scan an entire room—all from the remote parent unit. Automatic night vision helps parents easily spy, er, "watch" littles even in the darkest hours of the night; and a full-color, high-resolution 4.3-inch LCD screen enables parents to crisply see every smile, every eyelash flutter, every exhausted yawn, and, yes, every attempted escape. The VM344 expands up to four total cameras so parents can keep an eye on more than one child or room at the same time too. (It's like the ultimate mission control!) A two-way, talk-back intercom allows Mom to soothe Baby remotely.
I know that I personally wake up three or four times throughout the night to check the monitor and watch my babies sleep. (Well, hopefully they're sleeping.) I can't imagine how I'd function without it. I'm pretty sure I wouldn't sleep a wink myself. The new VTech monitor gives moms and perhaps dads rest easy knowing their kids are safe and sound... and, you know, not busting out of baby jail... Yeah, take it from me, spying on your kiddies is the only way to get some peace of mind at night. That, and a good lock. (Kidding! Sort of.)
More Momtrends Picks for Baby
PIN IT!
Save your favorite baby gear and ideas on Pinterest and follow along with our Gear for Baby and Kid board!
This is a sponsored post. All opinions are our own.