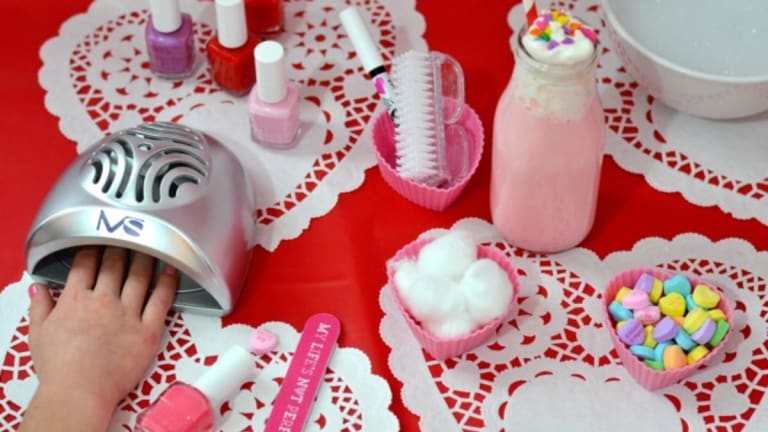 Valentine's Day Spa Party for Kids
Throw a mini Valentine's Day Spa Party for kids complete with treats and treatments
We love that Valentine's Day falls on the weekend this year. It means we get to spend the whole day with our little loves and we're excited about that! I got to thinking about different ways I could celebrate with my kids this year. I came up with the idea of having a mini Valentine's Day Spa Party for us girls while my little guy takes a nap.
How to Throw a Mini Valentine's Day Spa Party 
My daughter loves all things pink and purple and especially hearts, so Valentine's Day is one of her favorite holidays. I knew I wanted to do something extra special just for the two of us. 
What You'll Need for a Valentine's Day Spa Party 
We started with our favorite Valentine themed Duri nail polishes. My daughter's favorite color is Cupid Rules, which is a peachy pink color. Duri offers 250 colors to choose from and they are non-toxic so we love it for our kids.
We set up our supplies in silicone heart shaped cupcake liners. Cotton balls in one, a nail brush and nail pen in the other and, of course, some conversation hearts to munch on as a treat in the last.
My daughter and I are always giving each other manicures with our ever changing colors. We love using our MelodySusie nail dryer. It's portable so it's easy to move from room to room, wherever we happen to be doing our nails that day. It's battery operated and just the right size for kids since it's not too bulky.
What to Serve at a mini Valentine's Day Spa Party
I served "fancy milk" to go with our conversation hearts. Fancy milk is just strawberry milk with whipped cream, sprinkles and a cute straw. It feels extra fancy, and my daughter loves it!
We love holiday themed clothes so we got all dressed up in some fun Valentine's Day clothes.
Of course you could also throw the party in the morning and get inspired by one of our Valentine's Breakfast ideas.  
Easy Valentine's Day Spa Party
To throw your own Valentine's Day Manicure Party just start with a red (or pink tablecloth) and decorate with cheap paper heart doilies (we found ours at Walmart). Don't forget your Duri nail polishes , a nail dryer from MelodySusie, and some fancy milk and voila! You have a cute Valentine's Day inspired spa party that kids will adore.
MORE WAYS TO MAKE IT A HAPPY VALENTINE'S DAY!
PIN IT!
Be sure to follow our Valentines board and pin your favorite ideas.
This is not a sponsored post. We received samples for review.