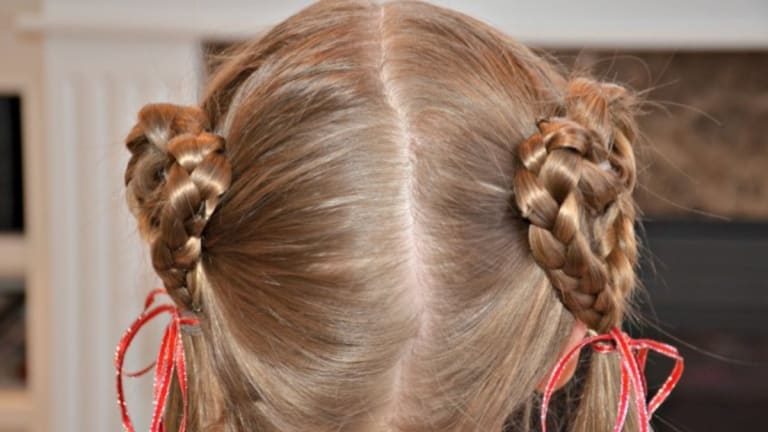 Hearts Everywhere! Valentine's Day Hair Tutorial
Easy Valentine's Day braid tutorial for a special school day look.
In gearing up for Valentine's Day here's an easy hair style for little girls. I promise I am not a master at braiding hair so don't let the braids deter you from trying. Your girls will be the talk of the class! I've created this easy Valentine's Day braid for my daughter and I'm sharing my tutorial.
For girls that like to have a special "look" for different holidays, these heart-shaped braids will be an instant hit.
Valentine's Day Hair Tutorial Materials Needed
Water bottle to help tame fly away hair
Small clear elastic bands
Bobby pins
Hair brush
Any embellishment items
Valentine's Day Hair Tutorial Directions
Step 1: Place your girl's hair into two high ponytails.
Step 2: Take each individual ponytail and turn it inside out from the bottom. Separate the hair above the ponytail into two sections and then pull the ponytail from the bottom to the top so it forms an inverted ponytail.
Step 3: Split the inverted ponytail into two sections and braid the sections to reduce flyaway hairs. If you are gun shy about braiding then you can twist the hair but I find it easier to manage with a braid. Finish each braid with an elastic band and then join the two braids together into one ponytail.
Step 4: Using bobby pins form the arches of the heart and pin into place.
Step 5: Add any embellishments to the hearts like ribbons or clips and sit back and enjoy your hard work.
I love the idea of adding some ribbons or maybe some pink pompoms to make this extra festive. I hope you and your kiddos love these!
MORE WAYS TO MAKE IT A HAPPY VALENTINE'S DAY!
PIN IT!
Be sure to follow our Valentines board and pin your favorite ideas.