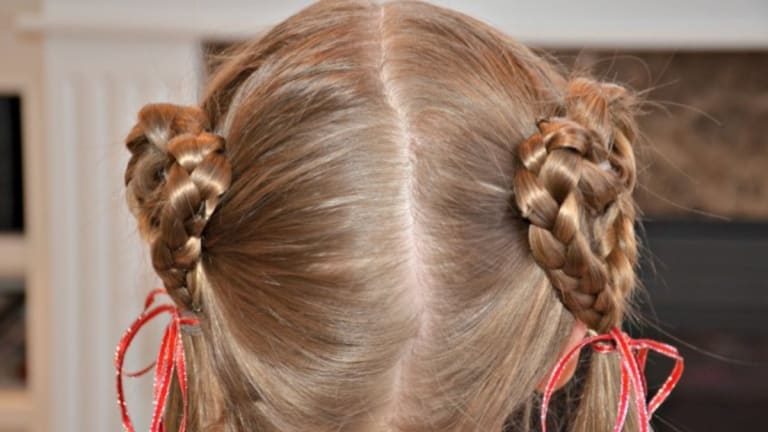 Publish date:
Hearts Everywhere! Valentine's Day Hair Tutorial
Easy Valentine's Day braid tutorial for a special school day look.
Easy Valentine's Day braid tutorial for a special school day look.
In gearing up for Valentine's Day here's an easy hair style for little girls. I promise I am not a master at braiding hair so don't let the braids deter you from trying. Your girls will be the talk of the class! I've created this easy Valentine's Day braid for my daughter and I'm sharing my tutorial.
For girls that like to have a special "look" for different holidays, these heart-shaped braids will be an instant hit.
Valentine's Day Hair Tutorial Materials Needed
Water bottle to help tame fly away hair
Small clear elastic bands
Bobby pins
Hair brush
Any embellishment items
Valentine's Day Hair Tutorial Directions
Step 1: Place your girl's hair into two high ponytails.
Step 2: Take each individual ponytail and turn it inside out from the bottom. Separate the hair above the ponytail into two sections and then pull the ponytail from the bottom to the top so it forms an inverted ponytail.
Step 3: Split the inverted ponytail into two sections and braid the sections to reduce flyaway hairs. If you are gun shy about braiding then you can twist the hair but I find it easier to manage with a braid. Finish each braid with an elastic band and then join the two braids together into one ponytail.

5 Pretty Ways To Organize Your Jewelry
I admit - I'm guilt. Despite my best efforts, my "jewelry drawer" has become a tangled mess of necklaces, bracelets and earrings. This cluttered collection not only makes it hard to see what I have, but difficult to untangle the pieces I do want to wear! This summer, I'm ...read more
This Year's Coolest Jumbo Pool Floats
Pool season is almost here! I can't wait to relax, read a book, and sip a cocktail while lazily drifting in an oversized float. (Just kidding, I have two toddlers--but a swim mama can dream, right?). If you've got a staycation planned, check out this year's coolest jumbo pool ...read more
Crystal Clear and Pristine: Pool-Cleaning Tips
Tropical Storm Isaiah gave us quite the midsummer surprise here in the suburbs of New York City. We just got our power back on after a whole week of darkness! With trees down, debris everywhere, and lots of uncertainty, one thing we forgot to check on: our above ground Intex ...read more
Step 4: Using bobby pins form the arches of the heart and pin into place.
Step 5: Add any embellishments to the hearts like ribbons or clips and sit back and enjoy your hard work.
I love the idea of adding some ribbons or maybe some pink pompoms to make this extra festive. I hope you and your kiddos love these!
MORE WAYS TO MAKE IT A HAPPY VALENTINE'S DAY!
PIN IT!
Be sure to follow our Valentines board and pin your favorite ideas.