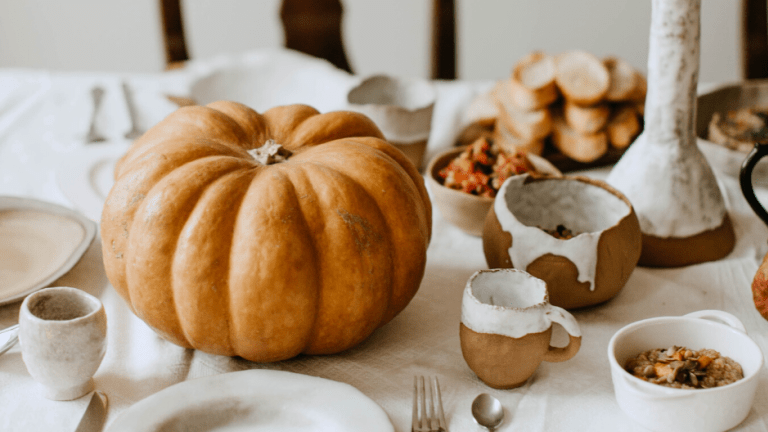 Turkey Pumpkin Craft
Easy Thanksgiving crafts for the kids to make.
Now that Halloween is behind us, it's time to turn our attention to Thanksgiving. The stores are stocked full of cute little mini pumpkins and gorgeous fall colors that just perfect for crafting. The kids and I created this cute mini turkey pumpkin craft that can be used to decorate your Thanksgiving table this year.
Turkey Pumpkin Craft Materials
Pumpkins (real or fake)
Construction paper - red, brown, yellow
Faux fall leaves
Googly eyeballs
Glue & scissors
Turkey Pumpkin Craft Directions
This craft is super easy and doesn't take too many supplies. 
Use your construction paper to create a turkey face.
From the brown paper, cut a peanut shape.
With the yellow paper, cut a rounded triangle shape for the beak.
Last, use the red paper to cut a little oval to be the wattle.
Glue all your shapes together to create your turkey face. While that dries a bit, it's time to move on to creating the "feathers" out of leaves.
Glue several leaves on the back of your turkey to make his tail feathers. I used 4 leaves total (2 large and 2 smaller leaves).
Now that you have your turkey "feathers" glued to the back, glue your turkey face to the front and viola!
Alternate with the red and yellow, or whatever color leaves you have to give it more variety.
Crafting Tips
Kids always love using scissors so I let mine use their safety scissors to cut the larger peanut shapes while I cut out the smaller shapes. 
I found these gorgeous gold glittered fall leaves at Michaels. They were a little bit more than the regular leaves but I just loved their colors and the bling of the glitter. You have a cute mini turkey pumpkin craft to display this Thanksgiving!
MORE THANKSGIVING INSPIRATION FROM MOMTRENDS
PIN IT!
For more Fall crafting fun, be sure to follow our Fall Thanksgiving & Halloween board here.
This is not a sponsored post.